I should have listened. All my LA-foodie friends mentioned that Street had never caught on. But knowing Susan Feniger and having previously really enjoyed her food, I decided to go anyway.
Silly, silly me.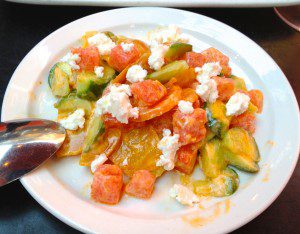 The dining area of the restaurant is in an outside covered area with the noises of the street. Interesting concept but way too noisy. The service staff were not only rude but were clueless about items offered, needing to find out the ingredients and country of origin of many dishes. At least occasionally, one would return with the information. I was hoping that the "street" food with Susan's interpretive twists would make up for all this.
Again, I say, silly me.
The poppadom (lentil) chips with a spicy cumin-cilantro tamarind dipping sauce served were delicious. We were off to a good start.
Next we tried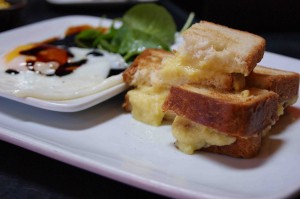 the signature Kaya Toast, known as the hangover cure in Singapore. The waitress described it as "way weird but worth it."  It's a coconut jam (kaya) sandwich and with a soft egg ($12). We were told to pop the yolk and then dip the coconut-jam sandwich into the egg with dark soy sauce and fresh ground white pepper ($12). Weird, yes; worth it, not exactly.
We left more than half of the Soledad goat cheese atop way too thick sourdough crostini, with braised endive, Spanish grape salad with toasted almonds and mint ($14). Too little toppings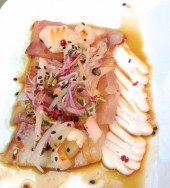 on way too much bread.
We found the shaved kale and brussels sprouts salad with goat cheese, lemon picada ($8) and garlic bread crumbs bland.
The evenings most flavorful dish was the persimmon sashimi plate with leechee and Asian pear, plus a yuzu-kosho mayo ($12). Sadly the wood-oven roasted artichoke with an oregano vinaigrette and a kalamata-olive aioli was too fibrous to eat ($10).
Tasty was the house salad ($10) of watermelon, baby beets, cucumber, goat cheeses in spicy harissa vinaigrette. At least I'd recommend that…
But I wouldn't recommend going to Street for high-priced mediocre "street" that leaves you full but wanting for something as you're sadly unsatisfied. I should have listened to my friends and chosen someplace else to dine.
– bonnie
Susan Feniger's Street
742 N. Highland Ave
Los Angeles, CA 90038
323-203-0500