My fridge overflowed with excess veggies as I had stopped at Stiles, the Midtown West neighborhood farmer's market offering a wide variety of fresh produce at discount prices. It's a permanent yellow and white tent on West 52 where two stuffed bags of fresh produce has never cost me over $25.
I was heading out of town to visit my grandkids necessitating using most all that was fresh in my fridge. I thumbed through some soup recipes, choosing an unusual Filipino recipe that used a whole jar of spaghetti sauce as my pantry overflowed with jars that were left after testing. As a food writer, I often get samples in the mail to write about.  
This hearty "stone" soup turned out stick-to-your-ribs yummy. I'd recommend making, especially if you have an extra jar of spaghetti sauce.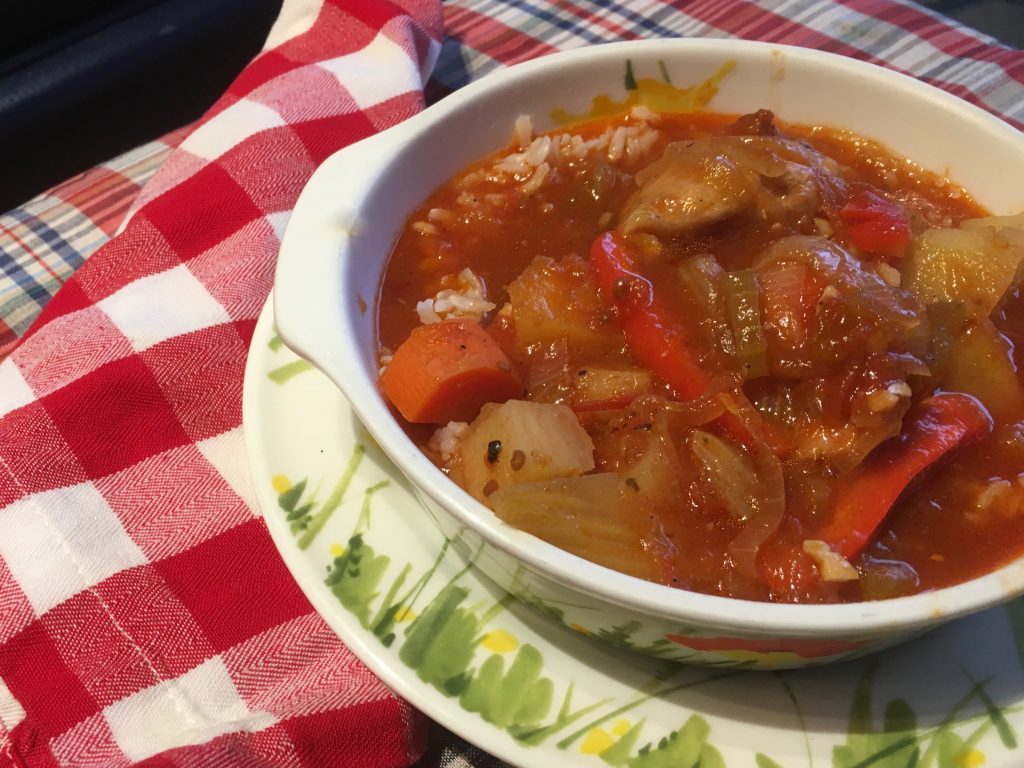 Sunday Clean-out the Fridge and Pantry "Stone" Soup
2 slices bacon
6 cloves garlic, finely chopped
1 large onion, thinly sliced
1 tablespoon olive oil (optional)
3 stalks celery, chopped
1 small bulb fennel, thinly sliced (optional)
Salt, black pepper and cayenne to season the chicken
6 skinless boneless chicken thighs
2 large potatoes, peeled and cubed
3 large carrots, coarsely chopped
1 (24-ounce) jar spaghetti sauce + water
2 tablespoons soy sauce
2 teaspoons sugar
1 teaspoon freshly ground black pepper
2 small bay leaves
1 red bell pepper, seeded and sliced into strips
3/4 cup brown rice
In a large stockpot, cook the bacon over medium-high heat until crisp. Remove cooked bacon and set aside. (Either save the bacon to crumble over the soup as a garnish; or eat it!) Add the garlic and onions; cook for 3 or so minutes until the onions are soft. If there is not enough fat in the pan, add 1 tablespoon of the oil. Add the celery and, if using, the fennel; cook, while stirring occasionally, for 3 more minutes.
Season the chicken with salt, black and cayenne pepper, to taste. (I like using the spicy Tabasco salt instead). Move the veggie to the side of the pan so the chicken will cook on the pan's surface. Add the chicken; cook for 3 to 5 minutes, turning occasionally, until the chicken is no longer raw on the outside.
Stir in the potatoes, carrots, spaghetti sauce, soy sauce, sugar, black pepper and bay leaves. Fill the sauce jar with water; add that. Stir well and bring the mixture to a boil. Reduce the heat to medium, cook, partially covered, for at least 30 minutes.
Meanwhile, cook the brown rice according to package direction.
Add the bell peppers slivers. Continue cooking for another 15 to 20 minutes, serve hot in soup bowls with the rice, being sure to remove and discard the bay leaves. If desired, garnish with crumbled bacon.
Makes 6 to 8 servings