My friend Ellen called asking for a recipe I had given her many years ago. "The no-cook one with lots of fresh tomatoes and basil," she reminded me.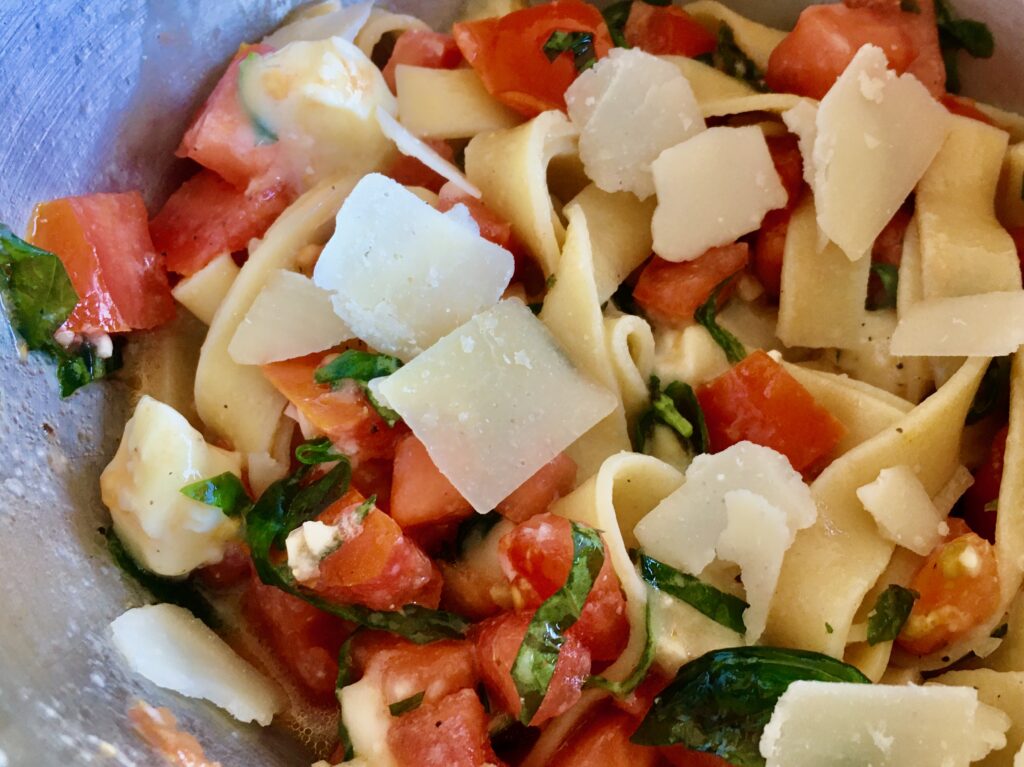 I had just been thinking of that recipe as I walked through the Union Square Farmers' Market with whiffs of basil and tomatoes. Funny she should call to ask about it.
When I made it recently, I realized that I can no longer tolerate uncooked garlic. I could 21 years ago when I tested this idea for my Express Lane Cooking column. If you also can't tolerate raw garlic but love the flavor, add whole crushed cloves to the bowl, removing and discarding before adding the hot pasta. Skewer the cloves for easy removal.
Summer Bounty Pasta and Brie
Necessities
Brie (8 ounces), rind removed
Fresh basil, cut in strips (1 cup)
Ripe tomatoes (4 large)
Linguine, refrigerated (9- to 10-ounce package)
On Hand
Salt
Black pepper
Extra-virgin olive oil
Not so Necessary
Minced garlic cloves (4), fresh or roasted
Shaved Parmesan cheese
Tear brie into pieces; toss into a large serving bowl. Add 1/2 cup oil, the basil, garlic (if using), salt and pepper. Cut tomatoes in half, gently squeeze out seeds while holding over the sink; dice. Add to bowl. Let stand 10 minutes while preparing pasta or, if you have the time, let marinate for 2 hours. Cook pasta according to package directions; drain. Add to the bowl; toss, if desired, with  shaved cheese.