Who would have guessed lunch at the Studio Cafe  upstairs on the eighth floor at the new Whitney museum downtown would be so reasonably price. After all it's led by the team who run Danny Meyer's pricey Untitled. This cafe features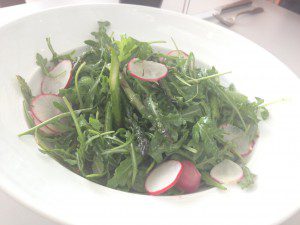 open-face sandwiches (referred to as toasts), soup and salads. There's no access to the cafe unless you are visiting the museum. But the museum is worth frequenting. A year of membership to the museum starts at $85, giving you 10% off of your restaurant bill.
We sampled their arugula salad with slivers of asparagus and slices of radishes, lightly coated with a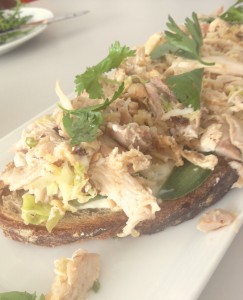 dressing with wild flower honey mustard ($12). Refreshing, as was the Martinsancho, Rueda, Spanish 2013 Verdejo ($9/glass).
Our toast was piled high with chicken salad made from recently roasted chicken bound with just a soupçon of mayo over thinly sliced cucumber and some cabbage ($12) topped with fresh parsley.
I recommend either … and the desserts that passed our table and we watched the joy on the faces of those ate them.
I'll revisit for sure!
– bonnie
Studio Cafe
Whitney Museum, 8th floor
99 Gansevoort St, New York, NY
(212) 570-3670