These easy-to-make calzones are from Sara Moulton's Home Cooking 101. She also offers a chocolate-hazelnut version where you mound 1/2 tablespoon of both Nutella and chopped bittersweet chocolate instead of the strawberry mixture.
Sara wrote, "I've taken this French snack on a detour to Italy by stuffing pizza dough (very similar to baguette dough) with sweet fillings."
– bonnie
STRAWBERRY CANNOLI CALZONES
1/4 cup plus 1 tablespoon finely chopped strawberries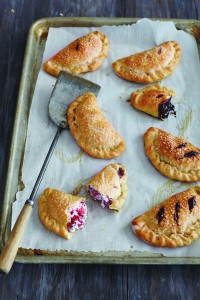 1 teaspoon sugar
3 ounces Neufchâtel (1/3-less-fat cream cheese)
1 teaspoon freshly grated orange zest
1 1/2 ounces dark chocolate, finely chopped
12 (1 1/2-ounce) balls 10-Minute Pizza Dough made with vegetable oil or store-bought pizza dough
Vegetable oil, preferably grapeseed, for rolling out the dough
An egg wash made by beating 1 egg with 1 tablespoon water
Preheat the oven to 375°F. Toss together the strawberries and sugar in a small bowl and let stand for 15 minutes.
Combine the Neufchâtel, orange zest, and chocolate well in a medium bowl. Add the strawberries and the strawberry juices from the bowl and stir just until combined.
Working with 1 ball at a time, roll out the dough to a 4-inch round on a lightly oiled surface. Mound 1 tablespoon of the filling on the lower half of the round. Moisten the edges of the round with water and fold the top half of the round over the filling. Pinch the edges together very tightly, crimping them to seal. Place the calzones on a parchment-lined baking sheet. Brush the tops with the egg wash and make 3 slits in the top of each with the tip of a paring knife.
Bake the calzones on the middle shelf of the oven until golden, 12 to 15 minutes.
Makes 12 calzones
Credit line: Excerpted from Sara Moulton's Home Cooking 101: How to Make Everything Taste Better by Sara Moulton. Copyright © 2016 Sara Moulton. Reprinted with permission from Oxmoor House, an imprint of Time Inc. Books. All rights reserved.