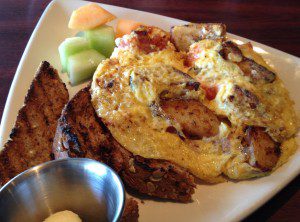 Oddly Connecticut has fewer water location for dining than you'd imagine. So when I find one, I'm always ready to sample it.
Recently I met a friend for brunch at Stonebridge in Milford with a view of  the Wepawaug River. It was too chilly to dine on their outdoor patio, but we did second best – sat in a booth with a view of the water as we sipped our spicy bloody Mary's ($8.50)
Breakfast at Stondbridge is served 9 to 11  Saturday and Sunday. All eggs are served with Arthur Avenue sweet seven grain artisan toast and breakfast potatoes. The potatoes were mixed into our open-face frittata "stuffed" with bacon, cheddar cheese and tomatoes, served with some fresh fruit ($9).
A nice place for a weekend brunch. I think next time I may opt for their bottomless mimosas ($12) or their Sicilian blood orange ones ($9).
– bonnie
Follow @BonnieBOTB

Stonebridge Restaurant
50 Daniel Street
Milford, CT 06460
Cross Street: New Haven Avenue
(203) 874-7947