Earlier this year, I was invited to a media event for the publication of Living the Farm Sanctuary Life, a vegan and animal-friendly lifestyle guide. I then learned of this organization's goal to combat factory farming, to encourage awareness about farm ani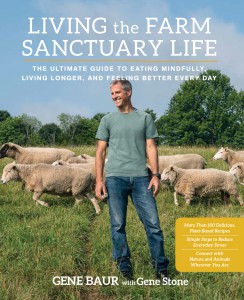 mals and to operate sanctuaries for neglected animals. Farm Sanctuary was founded in 1986.
They operates three shelters in New York and California that provide lifelong care for nearly 1,000 rescued farm animals. Jon Stewart and his wife Tracey (who serves on the Board of Directors) will be transforming their New Jersey farm into the fourth sanctuary for neglected animals.
This recipe for Sprouted Buckwheat Tabbouleh is from their book, created by Matteo Silverman, Sonoma, California-based executive chef of Chalk Hill Cookery
Instead of bulgur wheat, this tabbouleh recipe uses sprouted buckwheat groats, a process that increases the nutritional content and digestibility.
– bonnie
BonnieBOTB
Follow @BonnieBOTB//  
The recipe is simple — you'll just need to plan ahead to soak and sprout the buckwheat; everything else comes together quickly. The flavors remain classic with a tangy olive oil and lemon dressing with the mint and parsley adding freshness and harmony.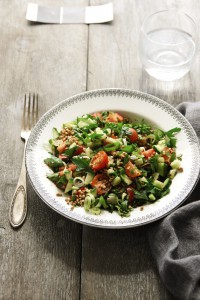 Sprouted Buckwheat Tabbouleh
1 cup buckwheat, soaked for 6 hours in water
2 cups seeded and diced tomatoes
2 cups diced cucumber
3⁄4 cup chopped fresh parsley
3⁄4 cup chopped fresh mint
1⁄2 cup sliced green onions
1⁄2 cup olive oil
1⁄4 cup lemon juice
1⁄4 teaspoon ground black pepper
1⁄4 teaspoon sea salt
Pinch or two of cayenne
Drain the buckwheat in a sieve and allow it to sit overnight to sprout. The next day, dry the buckwheat with a clean towel to remove excess moisture.
In a large bowl, combine the sprouted buckwheat, tomatoes, cucumber, parsley, mint and green onion. In a small bowl, whisk together the oil, lemon juice, black pepper, salt and cayenne until emulsified. Pour the dressing over the buckwheat mixture and toss it all together. Serve.
Makes 6 servings