Splash Cafe is another breakfast place to sample when in San Luis Obispo (SLO).  The original location is nearby — along the coast — in Pismo Beach (CA). Both Splash cafes are purportedly famous for their clam chowder, but only visiting the SLO place for breakfast, I didn't sample it.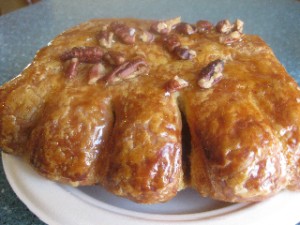 I did — though — indulge in their freshly baked bear claw filled with almond paste ($2.50) and a moist lemon-poppy seed muffin ($2.50) while waiting for my linguiça omelet ($4). The biggest bargain: the egg sandwich on 8-inch long whole-wheat bread ($2.95) topped with a sauteed piece of fresh salmon ($1.25).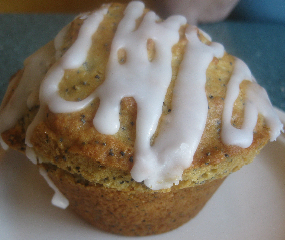 I was way too full to even think of sampling their hand crafted chocolates with 100% organic fair trade chocolate. I'll save that for my next visit, along with a bowl of clam chowder.
– bonnie
Splash Cafe & Artisan Bakery
1491 Monterey St
San Luis Obispo, CA 93401
805.544.7567