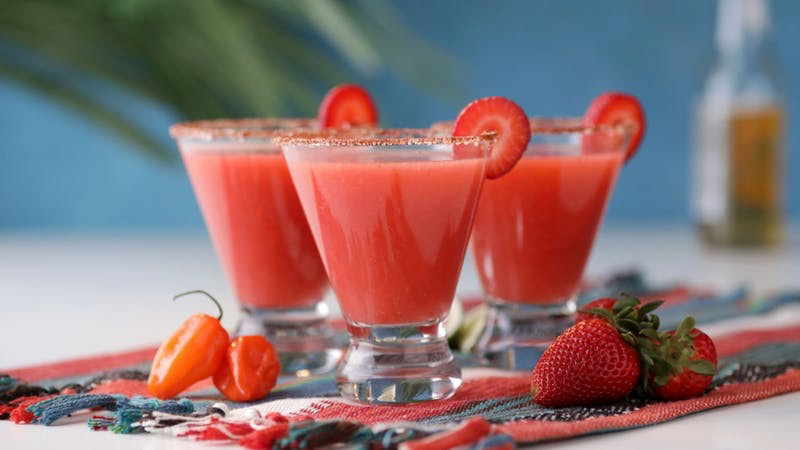 Spicy Strawberry Margarita
When this photo and accompanying recipe for a strawberry margaritas arrived in my inbox, it caught my eye as I love spicy drinks.  I tried it — and like many recipes that come across the transom — it didn't work.
I re-wrote and re-tested it.  Adjust the fresh jalapeños used depending on your heat toleration! And, obviously, use really flavorful ripe berries.
3 cups sliced strawberries, plus 6 slices for garnish
1 – 2 seeded and finely diced jalapeño peppers
1/4 cup (2 ounces) simple syrup
2 cups crushed ice
3/4 cup (6 ounces) tequila
1/4 cup (2 ounces) triple sec or Cointreau
1/2 cup (4 ounces) freshly squeezed lime juice, plus additional lime for garnish
Optional to rim glass:
1 tablespoon chili powder
1 tablespoons salt
In a blender, combine strawberries, peppers, simple syrup, ice, tequila, liqueur and lime juice; process until smooth.
If desired, rub the edge of each glass with a lime, then dip into a combo of the chili powder and salt before pouring the frozen strawberry mixture into a glass and garnishing with a strawberry slice and lime wedge.
Makes 6 margaritas