One night recently I revisited Spice, a Thai place I have frequented and enjoyed. This time everything from the kitchen was off, as each dish contained undercooked, almost raw, vegetables..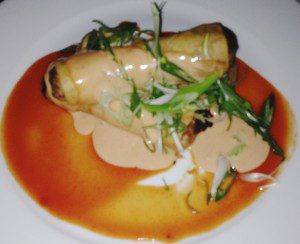 I started with the Pad Thai Spring Rolls (3 for $5) fried until crisp and served with both a tasty tamarind and creamy sriracha sauce. But the filling was flavorless and too crunchy, with uncooked vermicelli mixed in with the cabbage, tofu and peanut filling.
Uncooked is the word for that night as the broccoli and string beans in my green curry were hard and almost inedible; the eggplant off tasting. At least the flavor of the sweet & spicy curry was decent. I'm guessing the chef either called in sick or had the night off.
– bonnie
Spice
39 E 13th St
(Union Square between 5th Ave & University Place)
New York, NY 10003
(212) 982-3758
www.spicethainyc.com/spice/