I met a friend for a quick lunch at Spice — a Thai restaurant — just off Union Square. What a bargain!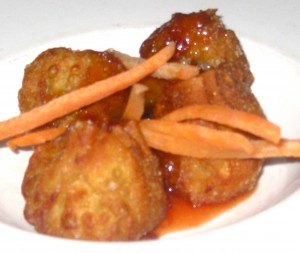 Their lunch menu offers a selection of appetizers to accompany a choice of 17 entrees for $9 or less, depending on which you select.
I chose the golden crispy fried signature shrimp fritters, filled with ground shrimp and chicken, accompanied by a honey chili Thai sauce with a nice spicy kick.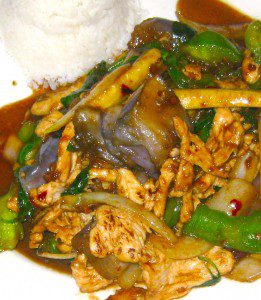 The steamed vegetable dumplings filled with broccoli and spinach are also worth sampling.
A glass of Leonard Kreusch Riesling ($6.50), Kabinatt Germany — a medium-bodied wine with a hint of melon and some mineral notes — worked well with both the appetizer and my Spicy Bamboo Chicken with basil.
The portions  come with rice, except of course the noodle items, and are so hearty, you probably will take some home to enjoy later. .
This specially priced lunch is served until  3:30 daily. Note to self: Be sure to return to sample more!
– bonnie
Spice
39 E 13th St
(between 5th Ave & University Pl)
New York, NY 10003
(212) 982-3758
www.spicethainyc.com/spice/