This recipe for Spanish Marinated Portobello Mushrooms over Stewed Potatoes, inspired by a Penelope Casas's recipe, is from  Karen Page's most recent book, The Vegetarian Flavor Bible; photograph by her husband Andrew Dornenburg.
Karen says that ideally the wine to enjoy with this dish is a Gran Colegiata Crianza or another red wine from the Toro region of Spain.
Spanish Marinated Portobello Mushrooms over Stewed Potatoes
Marinade: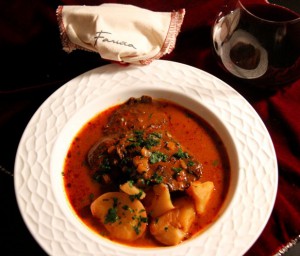 2 T Spanish smoked paprika
4 minced garlic cloves
1 chopped onion
1/4 cup minced fresh parsley
3 T extra-virgin olive oil
1 1/2 t ground cumin
1 t dried oregano
1 large bay leaf
Salt and fresh black pepper, to taste
Portobellos:
6 large, cleaned Portobello mushroom caps (ribs removed)
Potatoes:
2 T olive oil
3 ½ pounds peeled new potatoes
1 quart vegetable stock
salt to taste
3 T fresh chopped parsley
In a large bowl, add the marinade ingredients and whisk together. Add Portobello mushrooms and toss to coat in the marinade. Cover with plastic wrap, and refrigerate overnight.
Sear the marinated mushrooms in hot olive oil and sear, about 1-2 minutes on each side. Then add the potatoes, vegetable stock, and salt, and simmer, uncovered, until tender.
Ladle mushrooms and potatoes into serving bowls. Reduce sauce over high heat for 2-3 minutes to thicken. Garnish with fresh chopped parsley.
Serve with a glass of red wine.