A marketing intern invited me to experience the live Latin music and food at SOB, a restaurant and music venue that's been around since 1982. I couldn't resist. I got there in time for the free salsa dance lessons given each Friday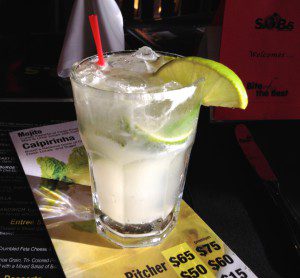 night at 7, but decided to just watch instead.
I began with a caipirinha, Brazil's national drink, that was perfection – a perfect blend of cachaça lime and sugar. The ones that followed seemed to be mock cocktails, each containing less and less cachaça than the first. That's my only issue with SOBs, as the food, service and — of course — Latin music are quite good.
Our knowledgeable server Jordan suggested the sampler for two to experience many appetizers ($24). I'm glad we did. That platter included grilled linguiça (Brazilian pork sausage), one beef and one cheese pasteis (the Brazilian empanada), chicken passarinho (bite-sized on-the-bone fried chicken nuggets with lemon & garlic), codfish cakes, sauteed garlic shrimp and sweet fried plantains served with two sauces: a sweet roasted red pepper and a housemade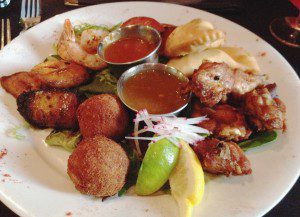 wonderfully spicy hot sauce. (SOB should bottle and sell the latter!) Favorites include the chicken nuggets and codfish cakes. Empanadas needed more filling, especially the cheese one.
Don't miss the make-your-own fish taco! The platter comes filled with two pan-fried tilapia fillets, chopped greens, chipotle mayo, fresh tomatillo salsa, pico de gallo, guacamole and flour tortillas ($26).  We saved some of the hot sauce from the apps to drizzle over our tacos.
Also recommended is the grilled barbecue salmon, topped with garlic collard greens, orange salsa and a housemade corn arepa  ($26).
My least favorite was Brazil's national dish of feijoada ($27), a stew of beef, pork parts and black beans, served with white rice, orange slices & farofa (butter toasted manioc flour) as the meats were a bit dried out.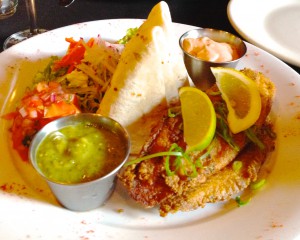 The waiter said it was meant to be that way. I know that's not the case as I'm had — and made it — before!
For dessert we waited the 15 minutes for the volcanic chocolate cake ($10) to be made to order. Like many an oozing chocolate cake, it's worth the wait.
What they call monkey business ($10) is good if you like bananas, as it's layers of banana bread, filled with vanilla ice cream, topped with caramelized bananas and walnut praline and all drizzled with chocolate and caramel sauces.
If you love Latin dancing, this is a fun place to dine.
– bonnie
Follow @BonnieBOTB

Sounds of Brazil
Soho
204 Varick St
New York, NY 10014
(212) 243-4940