We decided to grab a bite at Snack Taverna as it was just a couple blocks away from the Barrow Street Theatre where we had tickets to see the recently closed show, Tribes.
We started with three crispy zucchini fritters ($10)  a top a tomato sauce flavored with feta, kefalotyri cheese and roasted garlic and a portion of the evening's appetizer special, pastichio ( $14) — a Greek-Style lasagna with ground beef, tomatoes, roasted onions, garlic, and bechemel sauce topped with kefalotyri cheese. The casserole was heavy on bechamel, and light on meat and flavor.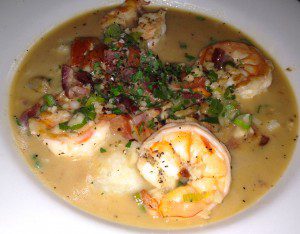 Next the Shrimp Trahana, with four large shrimp along with some  pasta, applewood smoked bacon, tomato, garlic and scallions in a creamy flavorful, slightly under-seasoned broth.
But the Branzino — although one of the smaller portions I've been served in the city — was cooked perfectly and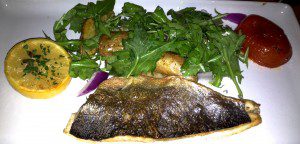 served with fingerling potatoes, a warm lemon half, a tomato and fresh arugula ($28).
The Greek wine Koutsoyiannpou ($12 per glass) left me wanting.  I'd return to sample other menu items, but only if I was in the neighborhood.
Snack Taverna
63 Bedford Street
New York, NY 10014
212.929.3499