What a find! Conveniently located in the lobby adjacent to Signature's three small theaters at the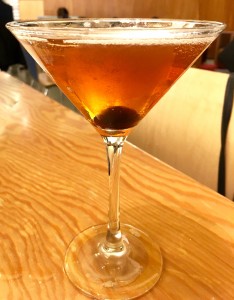 corner of Tenth Avenue and 42nd Street, the Signature Café and Bar offers light, flavorful and healthful fare from Great Performances. There's also a full bar including a glass of champagne or Prosecco and live music on performance nights.
All this comes to you at reasonable prices with the organic produce they served grown at GP's Katchkie Farm in Kinderhook, NY. You'll need to go to the counter to order from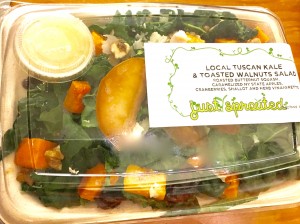 the limited but tasty menu. Much of their food is already packaged — like deliciously dressed chopped Tuscan kale, roasted butternut squash, caramelized apples, dried cranberries and walnuts ($7).
They also offer $5 tomato or chicken noodle soups; $5 freshly made textured hummus and chips; $8 grilled three-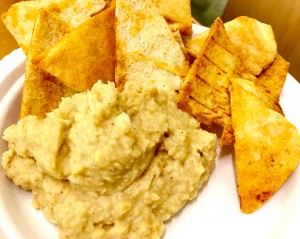 cheese sandwich on sour dough bread; $9 a hearty tuna salad sandwich with lettuce and tomato on ciabatta; and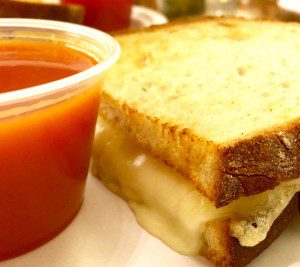 $11 mushroom, tomato and leek flatbread flatbread pizza.  I sampled all and would recommend. I'd only skip the trio of unusual empanadas  with a cilantro lime dipping sauce ($11) as they were a bit doughy.
There are not many places in NYC where you can get such an inexpensive healthful bite before heading to a show! I recommend you try a  pre-show snack or post-show nibble!
Signature Café and Bar
Hell's Kitchen
480 W 42nd St
New York, NY 10036
(212) 244-7529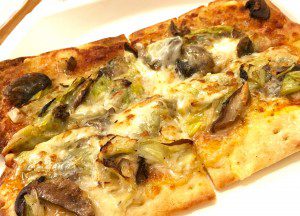 Save
Save