Last fall when traveling in Sicily, I connected with a wonderful group of travelers so much so that nine of us recently gathered in Florida for a mini reunion. The food — with dishes prepared by those who were local — had a Sicilian slant.  Some of those goodies included arincini (stuffed rice balls), pasta with red peppers and Gorgonzola, eggplant parmagiana, capanata, fresh asparagus with roasted peppers, swordfish and for dessert both profiterels. And of course Sicilian wines!
This simple recipe for Sicilain Mint and Garlic-Stuffed Swordfish has been adapted by Jay Meiselman of Boca Raton from Fabrizia Lanza's "Coming Home to Sicily." Jay buys two swordfish steaks about 2 1/2 to 3 inches thick, cuts them into portions and forms them into an almond-like shape in a baking dish. The results: deliciously tender fish.
– bonnie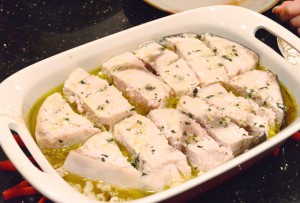 Sicilian Mint and Garlic-Stuffed Swordfish
6 cloves garlic
1 large bunch of fresh mint, leaves removed
Coarse sea salt
Two center-cut swordfish steaks, about 3 1/2 pounds, about 2 1/2 to 3 inches thick
3/4 cup extra-virgin olive oil
1 cup white wine.
Preheat the oven to 400 degrees F.
Chop the garlic, mint leaves and salt to taste together to form a rough paste. Using a sharp knife, make 2-inch deep slits in the swordfish flesh, both top and bottom and stuff with the mint-mixture, rubbing the extra on the outside of the fish.
Drizzle the bottom of a shallow baking pan with some of the olive oil, arrange fish pieces in an almond shape (as in the photo) and trickle with the remaining olive oil. Bake 15 minutes, then pour over the wine. Reduce the temperature to 350 degrees F and bake until the fish is opaque, about 15 minutes more.
Remove from oven, loosely cover with foil and let stand 10 minutes before serving.
Makes 8 servings.