I returned to New Haven for a bridal shower, and wanted to stop in at the new Shell & Bones that opened after I moved away. We had a 7 pm reservation, arrived 15 minutes early – and weren't seated until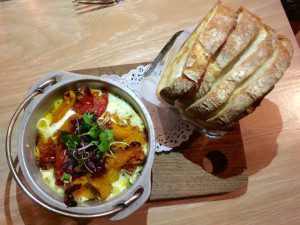 about quarter to 8 and that's with knowing both the owner and the chef.
An auspicious beginning.
We started with a couple of things from the bar menu that the Dan the owner, had described to us while we were waiting for our table. I'd recommend the smoked trout spread with chopped fennel, radishes and cucumbers served ($8) with toast points. Instead of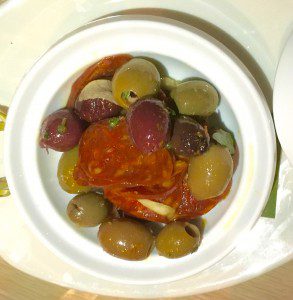 the dried fruit and nuts that should have accompanied it, we had requested fresh veggies, as one of our group needed gluten-free.
Also tasty are the marinated olives ($8), served with marcona almonds and thinly sliced Spanish chorizo all seasoned with some citrus zest, thyme and rosemary; and the gooey local ricotta ($10) cheese oven-roasted with baby to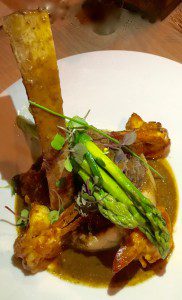 matoes, drizzled with herbed truffle oil and served with chewy-crusted bread.
We should have stopped there. The Thai-braised short rib entree came with BBQ jumbo shrimp, all sitting in a celery root purée and topped with asparagus. It looked nice but was disappointing in both flavor and tenderness. Both the meat and asparagus needed more cooking. The house fries ($6) were great with the housemade came a sweet 'n spicy chipotle and pomegranate ketchup and also a rosemary malt white sauce for dipping.
– bonnie
BonnieBOTB
Follow @BonnieBOTB

Shell & Bones
New Haven
100 South Water St.
New Haven, CT
(203) 787-3466