You must have heard about Serendipity … after all, the restaurant has been in several films, including two romantic comedies. In Serendipity (2001)  John Cusack and Kate Beckinsale meet by chance at Bloomingdales, and later that night have ice cream there. It's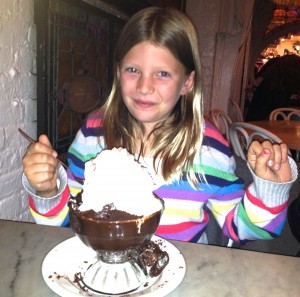 also in One Fine Day (with Michelle Pfeiffer and George Clooney), featuring their famous trademark Frrrozen Hot Chocolate.
Soooo… I strongly recommended to my niece Cindy and my grand-niece Ellie  — who were in the big apple, along with my sister (Ellie's grandmother) celebrating Ellie's 10th birthday  — that we all go there a sundae …  and of course lunch.  It's a whimsical ice cream parlor where Marilyn Monroe, Bette Davis, Andy Warhol and Jackie Kennedy have indulged.
We all dutifully ordered lunch so we could luxuriate in a decadent Forbidden Broadway Sundae that includes chocolate blackout cake, ice cream (we unanimously chose chocolate chip mint), hot fudge and whipped cream ($15.95).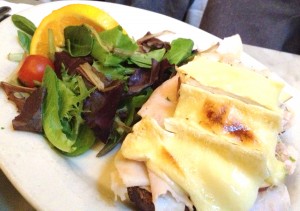 But first, we tried A Summer Bries: Smoked turkey, sliced apples, melted brie and alfalfa spouts served on raisin pumpernickel with Russian dressing ($14.50);  The Virginia Slim Open: turkey and asparagus on whole wheat bread also with Russian dressing topped with melted Jarlsberg ($13.50); and a Hamburger ($12.50) with french fries, lettuce, tomato and cole slaw. The food was decent, the sundae superb!
I suggest trying it – at least once!
Serendipity 3
225 E 60th St
New York, NY 10022
(212) 838-3531
serendipity3.com/main.htm