On one of the first warm days of spring, I wanted to dine al fresco so I met a friend and dined on the outdoor patio of Scoozzi. The prix fixe lunch menu for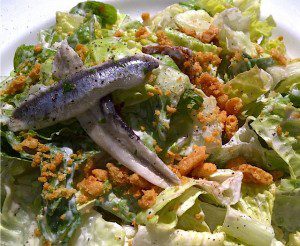 lunch ($18) was such a bargain, who could resist that or the wine supplement at $14 for two glasses?
The Caesar with torn romaine hearts, focaccia croutons and topped with white anchovies was refreshingly fresh. Perfectly matched with the Pinot Grigio Il Giardino '08.
And having just returned from a Chicken Media Seminar in Charleston (SC),  where the nutritional and taste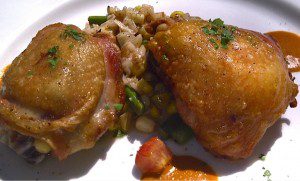 aspects of chicken thighs were touted, I couldn't resist ordering the oven roasted Murray's chicken thighs. I wasn't disappointed. The tender thighs came with a smoky Arborio-farro risotto with corn, asparagus and tomatoes accompanied by a glass of Chianti – Poggio Capponi '08.
I was too full for dessert but along with the appetizer and entree, you also had a choice of tiramisu, sorbet or gelato. A tasty bargain.
Scoozzi
1104 Chapel Street
New Haven 06510
203.776.8268
www.scoozzi.com