Don't you just love tripping over a good restaurant? That's what happened recently on a trip home from NYC, when dropping a friend at the parking lot of the Darien train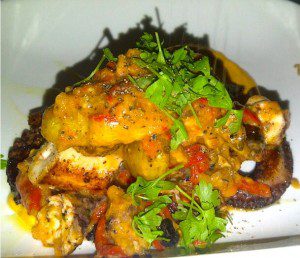 station. We had enjoyed a huge fabulous lunch at Tocqueville in the city, and it wasn't until we arrived in Darien that we realized we needed just a little something to eat.
We notice the warm light coming through the windows at Scena on the Post Road, thinking, "How bad could it be for a glass of wine and nibble?"  We were pleasantly surprised.
Along with a crisp glass of Oyster Bay (New Zealand) Sauvignon Blanc ($8) we sampled a crispy artichoke salad with a gently fried baby artichoke amid lots of arugula, shaved red onion, preserved lemon, ricotta salata ($11) and a rich pumpkin seed pesto to spread on their warm crusty bread. Also delicious was the  tender charred octopus with a smoked paprika aioli, roasted fingerling potatoes, piquillo peppers in a classic (but too much) Catalan romesco sauce ($12).
Note to self : go back for more!
– bonnie
Follow @BonnieBOTB

Scena Wine Bar & Restaurant
1077 Post Road
Darien, CT 06820
203.662.3226