My first memory of meeting the talented Sara Moulton was at the Good Morning America set in the 90s. She was working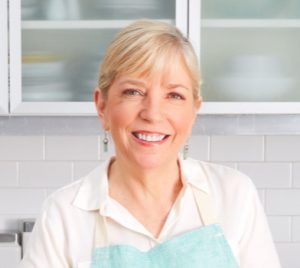 in the GMA kitchen as their executive chef prepping for the food segments; I was appearing in my inaugural network spot to promote Rice, my first cookbook. We worked together many times after that as I did numerous GMA food trend segments. Our paths would then cross on press trips or at media events, as the food community during that era was quite small.
But Sara's food career began long before her GMA days when she was associate chef for Julia's Julia Child & More Company TV show produced in Boston. While at GMA, she was Gourmet's executive dining room chef for 20 years, a gig that ended when in 2009 the magazine ceased publication. Sara was also one of the original stars of the Food Network, appearing on the network for about 10 years. Sara's Weeknight Meals TV show currently appears on PBS. To find where it appears in your local area, click here.
In addition to all that, she currently pens the KitchenWise column for Associated Press, doing what she does best — teach! Sara is also the author of four cookbooks, the newest of which  — Sara Moulton's Home Cooking 101 — published this year. Sara paused from her busy schedule promoting the book, to respond to our Guest Foodie questions.
To follow her on Twitter, click here; to follow her on Instagram, click here.
– bonnie
BonnieBOTB
Follow @BonnieBOTB

Which food product or gadget would you never give up? Lemons, parmigiano-reggiano and olive oil are three ingredients I can't live without. That's why I could never become a strict locavore. They just don't produce those items in my neck of the woods.
In terms of a gadget, it isn't exactly a gadget but one of my favorite tools is my giant cake lifter (a large version of a metal bench scraper). It's so handy for transporting vats of chopped vegetables to whatever pan you need to get them into.
What do you like to serve when you entertain? I actually hate to entertain, mainly because so much more is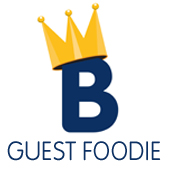 involved than just making the food. For starts, the house has to be impeccably clean and since my husband and I both work at home and have lots of office stuff around, that can be a bit of a chore. Secondly, when people come over they expect a fancy multi course meal. I don't have the time to pull that off.
So, my favorite thing to make is a big pot of soup, or several big pots of different soups so people can choose their favorite (and I can freeze the rest). I serve it with a tossed salad and grilled garlic bread. Dessert is often fresh berries and homemade mocha cookies.
Describe your "last meal?" It would include several things – stinky cheese (perhaps epoisse) with really good artisan bread, steamed clams with chorizo and more bread to mop up the juice, perhaps Peking duck. Dessert would be one of those molten chocolate cakes with homemade coffee ice cream. And there should be a beautiful white burgundy and aged red Bordeaux involved.
What food is your secret guilty pleasure? Frozen peanut M&M's.
What is your go-to neighborhood restaurant? I have not been eating out much in the past two years because of the cookbook. I needed to develop and taste recipes at home. Our favorite neighborhood restaurant, Tre Dici, closed last year alas but it has moved to Westchester (we will make the trek someday soon). But we still dine at ITrulli (27th off of Lexington), Periyali and Le Singe Vert, both in Chelsea, Manhattan.
What is one food product most people don't know about, but should? Toasted pumpkin seed oil – use everywhere you would use sesame oil; sumac – use everywhere you need a hit of citrus; chickpea flour – use for batter, coating, pancakes, pizza. It is gluten free, protein rich and very tasty.
Describe your worst kitchen disaster and how (if possible) you saved it: Actually, it was on national TV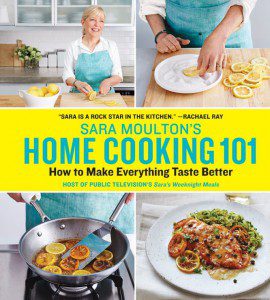 and I didn't save it. It happened on my Food Network show, Cooking Live. It was a Wednesday night "Cook Along," the night when the viewers were supposed to buy the ingredients (we listed them online) and cook along with me in real time. I started the show with fresh peas. I blanched them and then went to shock them in a bowl of ice and water but I had forgotten to ask for a strainer to put them in, so they went into the ice water free form, willy nilly, tiny peas next to tiny ice cubes. Since no back up ingredients were allowed on cook along night, I already knew that I personally would need to extricate every single pea from the bowl of ice cubes and water by hand before adding them to the recipe. This was a live show.
I don't remember the rest of the menu except the dessert, which was fortune cookies. I was doing a sort of French version, a take off on the French tuile cookie where you make a very thin batter and them bake the cookies one by one. These cookies were difficult enough to begin with, since you could make just one at a time and had only thirty seconds to shape the piping hot flat cookie before it hardened. But on top of that, I had forgotten how to fold them into fortune cookie shape; They looked like half moons, not fortune cookies. I was running out of time (and still had those damn peas to deal with) when a viewer called in and tried to walk me through fortune cookie shaping to no avail. I might have finished the entrée, whatever it was, but I ended the show with a bowl of peas in ice water and a few half moon fortune cookies. Not a good look from my point of view but my producer thought it was a very entertaining show.
Who was your most influential mentor? Oh, this is hard. I have been very blessed in this department. They were all influential – Julia Child, Jacques Pepin, Sally Darr (chef owner of La Tulipe in NYC, where I worked in the early 80's) and Jean Anderson.
Describe an event that changed/redirected your career. A head slapping moment when I was in my early thirties and my cousin Lisa, who was my age, found out that she was going to have a hard time having kids. It made me realize that I might have a hard time too, working 80 hours a week in restaurants. I mean how could I even connect with the husband to hatch a kid? So, I left the restaurant business at the age of 32, thinking that I would go back after I had the kids, but then I noticed after I had the kids that children don't just need you when they are new born, they need you when they are in elementary school and high school and apparently when they are young adults. I never went back to restaurants even though I loved them. I switched to recipe testing and got a job at Gourmet and moved on to many other things in the food industry.
To follow Sara Moulton on Twitter, click here.