San Cristobal restaurant is the paladar where Obama ate when he was in Havana. Like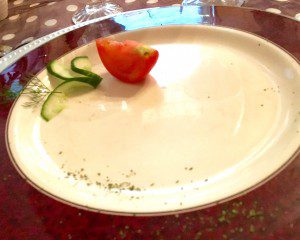 La Guarida, it's one of the few Cuban places recommended with good food.  We dined at this eclectically appointed restaurant in the downstairs floor of an early 20th-century mansion for lunch midday when we had dinner at La Guarida.
We had told our waiter Ray, that the three of us planned to share everything. Loved how the restaurant handled this: he placed a cucumber, tomato and herb pre-garnished plate on the table in front of each of us. Made us smile for sure in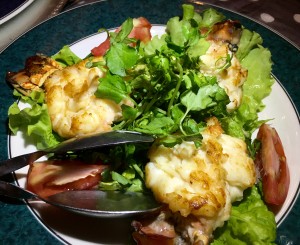 anticipation of what was to come.
When the grilled lobster ($20 was set on the table, we noted that it was beautifully garnished, and plated in three sections for easy dividing. Another special touch! The shrimps in garlic ($10), were still moist yet not garlicky enough for its name. The garlic in Cuba isn't near as pungent as we were used to in NYC. We also ordered some simple roasted potatoes and grilled veggies.
We hadn't ordered much — just the grilled fish, roasted potatoes and grilled veggies — knowing we were having a huge meal that evening. We did, of course, have a bottle of wine ($30) to accompany our meal.
For dessert, we tried the guava shell with cheese ($3), plus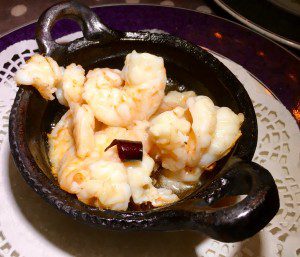 some complementary Anjeo rum and server Ray sharing his photo of his moment with the former President and First Lady.
A special meal with ultra-friendly service. Don't miss San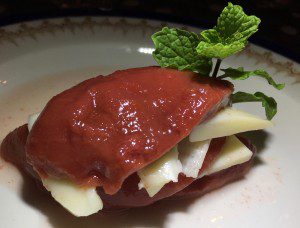 Cristobal if you're in Havana.
– bonnie
San Cristobal
San Rafael No 469, E/ Lealtad y Campanario
Havana, Cuba