While visiting in Park City, I heard that Sammy's Bistro had decided to offer breakfast. I had to try it as there are very few places offering breakfast fare in this busting ski resort.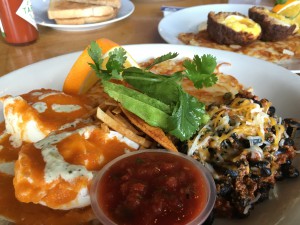 One of us ordered a simple scrambled egg, bacon and hash browns with a side of toast ($8.50). Although they mentioned that they made they make their own hash browns, the kitchen forgot to add any seasoning. Salt and pepper would have been an acceptable addition.
Another had the two Scotch eggs — Italian sausage wrapped around a soft boiled egg, then rolled in bread crumbs and fried ($12). Sadly the cook fried it way too long and it was inedible and served with a white sauce with brown specks described on the menu as Hollandaise. It was nothing like the creamy sauce of melted butter, egg yolks and lemon juice by that namesake.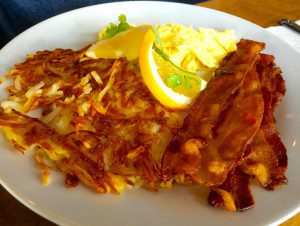 The huevos rancheros ($14) was the best of what we sampled, but still not something recommendable other than the black beans mixed with chorizo. I actually could have eaten a bowlful. The rest  — too poached eggs with a salsa roja was unremarkable.
Sammy's Bistro's brunch is nothing to go out of your way for.
– bonnie
Sammy's Bistro Park City
Park City
1890 Bonanza Dr
Park City, UT 84060
(435) 214-7570