Here's a quick and easy lemony salmon recipe with olives and chilies from Sara Moulton's Home Cooking 101 that could be quicker if you buy parchment bags instead of createing your own. We had previously featured Paperchef parchment baking cups that are also available in bags.
For those who like spicy foods, use habañero peppers instead.
Sara write, "…because the parchment is stick-resistant, this recipe requires very little fat — the small amount of oil is there for taste and texture only."
– bonnie
SALMON BAKED IN A BAG WITH CITRUS, OLIVES, AND CHILES
1 small orange, sliced very thin, plus 2 tablespoons fresh juice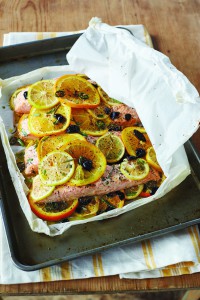 1 small lemon, sliced very thin, plus 2 tablespoons fresh juice
Four (4- to 5-ounce) skinless center-cut salmon fillet pieces
Kosher salt and freshly ground black pepper
1/4 cup fresh rosemary, chopped
2 tablespoons extra-virgin olive oil
1/2 cup olives, preferably oil cured, pitted and chopped
1 small serrano chile, sliced thin crosswise
Preheat the oven to 400°F. Place a large piece of parchment paper, 24 inches long and 13 inches wide, on a baking sheet and fold it in half crosswise. Open the paper, put the right half of the parchment on top of a baking sheet (letting the left half hang off). Arrange half of the citrus on the parchment.
Season the salmon on both sides with salt and pepper. Sprinkle half the rosemary on top of the citrus and top the rosemary with the 4 pieces of salmon. Drizzle the citrus juices and olive oil on top. Distribute the chopped olives and sliced chile evenly over the 4 pieces of salmon and top each piece with the remaining rosemary and the remaining orange and lemon slices.
Bring the left half of the parchment up and over the salmon to completely cover it. Starting at the top left of the parchment package, make 1/4-inch folds all around the perimeter and press to crimp and seal, until you have completely encased the salmon.
Bake the wrapped salmon on the baking sheet on the middle shelf of the oven for 12 to 14 minutes, until it is just cooked through. (You can stick a knife through the parchment into the salmon and if it goes in easily that means the fish is done.)
Cut open the parchment, knock off the citrus slices and transfer the salmon pieces to each of 4 plates. Spoon some of the olives, chile slices, rosemary, and juices from the parchment over each piece and serve right away.
Makes 4 servings
Credit line: Excerpted from Sara Moulton's Home Cooking 101: How to Make Everything Taste Better by Sara Moulton. Copyright © 2016 Sara Moulton. Reprinted with permission from Oxmoor House, an imprint of Time Inc. Books. All rights reserved.