Royal Street Cafe was my go-to lunch place when skiing at Deer Valley as I liked eating on non-disposable plates on the deck with busboys clearing!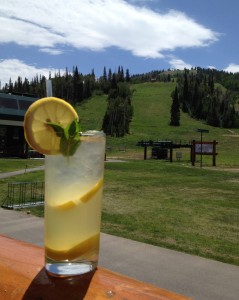 This time I was their guest to enjoy the same outdoor deck, summer time. We sipped a refreshing, nicely blended ginger limoncello – a drink that was 2010 Park City cocktail contest runner up. This libation would cost $19 in Manhattan, bue here was only $8; it is a blend of Domaine De Canton (ginger liqueur), Vodka 7000, Carvella Limoncello and house made lemonade.
The crispy tomatilla and jalapeno crusted calamari atop arugula-jicama salad was served with a peppery poblano aioli and red chili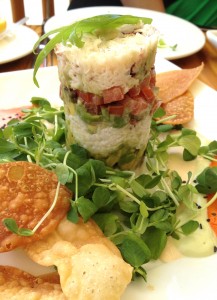 cocktail sauce for dipping ($15).
Be sure to sample the delicate shrimp spring rolls filled with shrimp, napa cabbage, cilantro and glazed (but soggy) cashews wrapped in rice paper, served with a coconut-curry mustard sauce ($15). And, the attractively presented fresh Dungeness crab tower with pea sprouts, diced avocado and tomato,  served with crispy won tons, and nicely spiced sauces of wasabi, ginger-soy and sweet chili ($19).
We had to have one order of garlic-herb-parmesan shoestring fries with their homemade ketchup ($7), as fried seem to beckon me!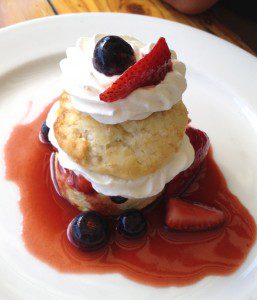 The Korean BBQ beef was the miss. Although we liked the  sweet yet spicy flavor, both the bao bun and meat were a bit dry, the former not freshly steamed, the latter just needing more sauce ($16). A better option is the house-smoked pulled pork sandwich, filled with tender roasted Niman Ranch pork simmered in Polygamy Porter BBQ sauce, served on a ciabatta bun with a bit of cole slaw (I would have preferred more!)  and with large crispy perfectly beer-battered onion rings, ($16).
The Ahi tuna, tossed on the grill just long enough to only put grill marks, for the taco came in a grilled flour tortilla topped with a mango and avocado salsa,  over corn and back beans and served with a lime aioli with heat from smoked habanero ( $27),
The favorite dessert was their fresh strawberry shortcake made with a buttermilk biscuit and vanilla scented whipped cream. Simply sublime.
– bonnie
Royal Street Café
7600 Royal St
Park City, UT 84060
(435) 645-6724