Route 66 Smokehouse is located on the historic Stone Street, a narrow cobblestone street in the heart of the
NYC's Financial District . The menu from Executive Chef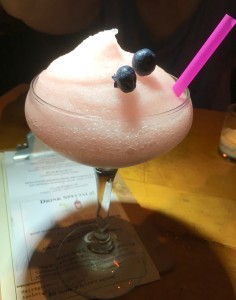 Billy Kooper, formerly a sous chef at Blue Smoke, offers modernized versions of classic dishes.
I started with their Frozé, a frozen rosé cocktail ($10) made with vodka and a blend of strawberry, cherry and grape juices, topped with two blueberries. Refreshingly delish…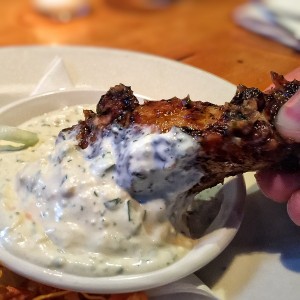 Having been invited as their guest to sample their fare, we ordered a variety of apps. Do not miss the brisket sliders with thousand island dressing, cole slaw, pickled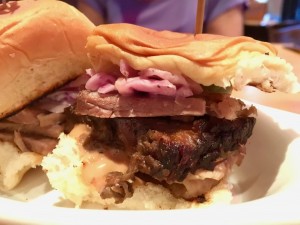 jalapeños on small egg buns ($13 for 3), my favorite starter by far. I'd go back just for these as I would the fried green tomato slices ($9) with fried jalapeños served with buttermilk ranch dressing. (The photo is not indicative of the actual serving size!)
We also shared the smoked and fried jerk-dipped chicken wings ($11) served with pickled carrots,crispy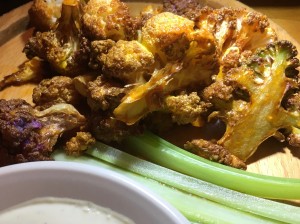 shaved and fried carrot ribbons and fresh celery ribbons; the deep-fried Buffalo cauliflower ($12) with blue cheese
sauce accompanied by — like Buffalo wings — fresh carrots & celery and blue cheese dressing; and their mac & cheese ($11) served in a cast-iron skillet.
Since I was there trying to taste most of the menu, we were given a sampler of a small serving of most of the BBQ
offerings and some of their hand-cut fries. The pulled pork, sliced brisket, beef ribs, pork ribs and smoked chicken were each smoked in their basement pit. The table offered a Memphis vinegar-style and a traditional tomato based sauce for the meats.
We had no room for anything more, but who can resist a warm chocolate chip cookie covered with confectioner's sugar? Not me!
Route 66 Smokehouse
Financial District
46 Stone Street
New York, NY 10004
(212) 943-1602

Save
Save