When my cousin asked whether I wanted to try a Thai place near his hotel, I said sure as I'd never been the Room Service the Thai restaurant on Ninth Avenue.
With three of us, we just decided to order an array of apps and some soup. Looking for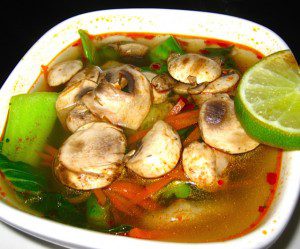 something with a little spice, I tried the Lemon Grass Soup ($3.90) with veggies. Although tasty, seasoned with lemongrass, kaffir lime leaves, chili and lime juice, I would have preferred it much spicier.
We sampled their mild curry puffs;  Siamese pastry stuffed with grounded chicken, potatoes and yellow curry sauce and served with chutney (three for $5.20); Room Service Tuna Tartar – fresh minced tuna, wasabi, tobiko, mayonnaise, sweet soy sauce, red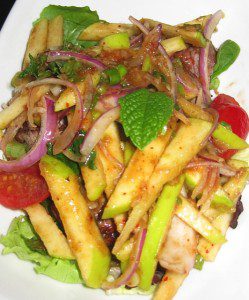 onions and scallions that was served with crispy tortilla chips($7.90); a salad of grilled beef chunks and batons of green apples, tossed with lime juice, tomatoes, red onions, scallions and a mild roasted chili paste dressing ($7.90).
We also sampled their Golden Triangle (five for $5.20) – crispy seasoned chicken, shrimp and water chestnuts in wonton skin served with plum sake dipping sauce; grilled chicken satay (over-cooked and a tad dry) atop fresh greens, tomatoes, cucumbers and onions served with light peanut sauce; and my favorite app the Coconut Calamari Tempura served with sweet chili dipping sauce ($5.20)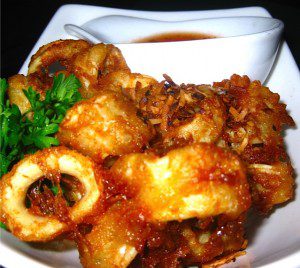 .
The service at Room Service is expedient as they like to get you in and out quickly. Everything we ordered arrived within minutes of each other. That's great to know if you're looking for a place to eat quickly before theatre, but not if you'd like to sit and talk.
If I return, I'd have the calamari again, request the dishes brought one at a time and sample a main dish.
It's  a New York bargain where you can eat for under $30!
– bonnie
Follow @BonnieBOTB
Room Service
690 9th Avenue
New York, NY
(212) 582-0999
(Room service has three other locations in the city.)