We were staying at Maison Rose in the small village of Saint-Jean-de-Côle in the Dordogne not too far from Le Moulin Du Roc, a former Michelin-starred restaurant, where we had booked lunch.
Being our first full day in the area, we hadn't a clue how long it would take on the back roads towards Brantôme, the city near the restaurant. We gave ourselves lots of time to get there for our lunch reservation arriving so early it was even before their meal service began.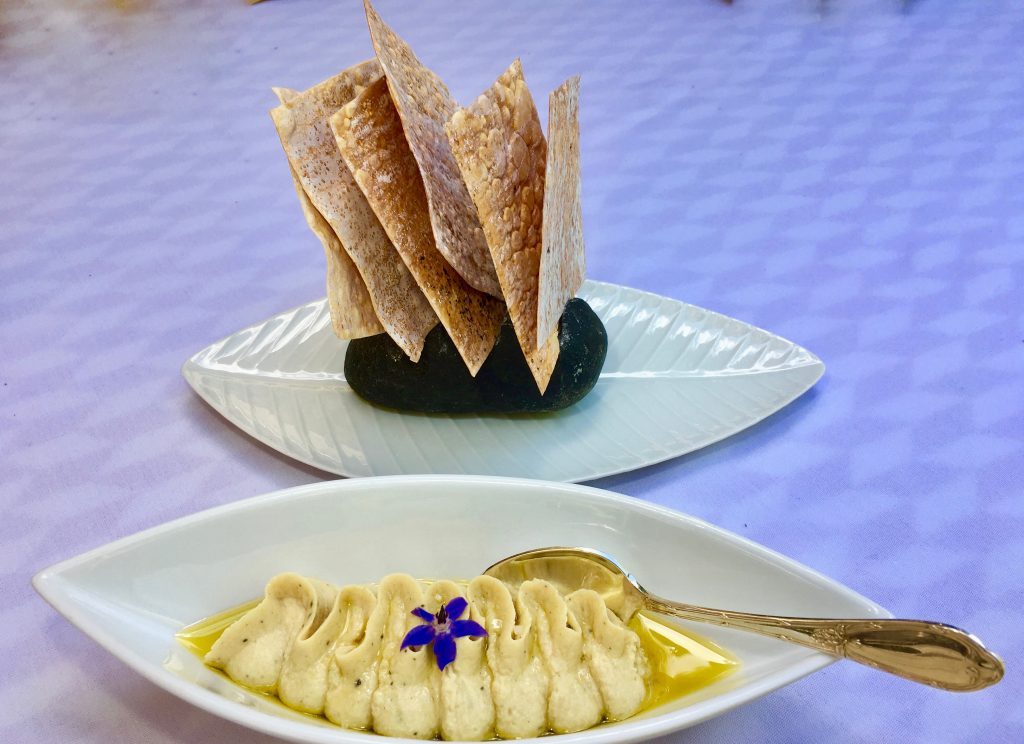 Our hosts welcomed us to the flower-filled garden terrace on the Dronne River adjacent to the elegantly furnished old mill. With a chill in the air as the sun hadn't yet warmed the terrace, the maître d' offered us each a blanket placing it over our shoulders. They also provided a handbag stool.
Once we were comfy, he offered us the menus. We each started with the classically French Lillet blonde on the rocks and nibbled the crisp whole-grain crackers with the housemade bean puree. They then served a round loaf of freshly baked warm crusty bread, pre-cut for ease of eating, along with fresh butter. Addictive.
After we ordered, the maître d' helped us select a wine that worked well with all our selection: a Côtes du Marmandais – a 2017 Coucou blanc Elian Da Ros, a white Bordeaux blend of Sauvignon blanc, Sauvignon Gris and Semillon (80€).
We each ordered different apps. The chilled watercress soup (13€) came garnished with smoked jelly, a salad (18 €) of celeriac root, figs and sliced beets was garnished by a fresh mini flower and my foie gras terrine (18 €) came with onion confit, mesclun and dots that exploded with a lemon flavor. When we asked about that, we learned that it was preserved lemon whipped with butter. While we were enjoying our apps, our server brought us a little bowlful of the lemon-butter that we scarfed up!
For entrees we enjoyed the candied and smoked pork belly (28€) on a bed of chanterelle mushrooms and other vegetables, coup de ligne (fish from the Guilvinec port) in a saffron-scented shellfish broth (24€) and fresh pasta with black truffles from the Périgord with pan-fried foie gras topped with fresh chives (55 €). Sadly, the pasta arrived at room temperature. Although our older server rolled his eyes, the wonderful maître d' replaced my cold entree with a new hot one. (Other than the older eye-rolling gentleman, the service was impeccable.)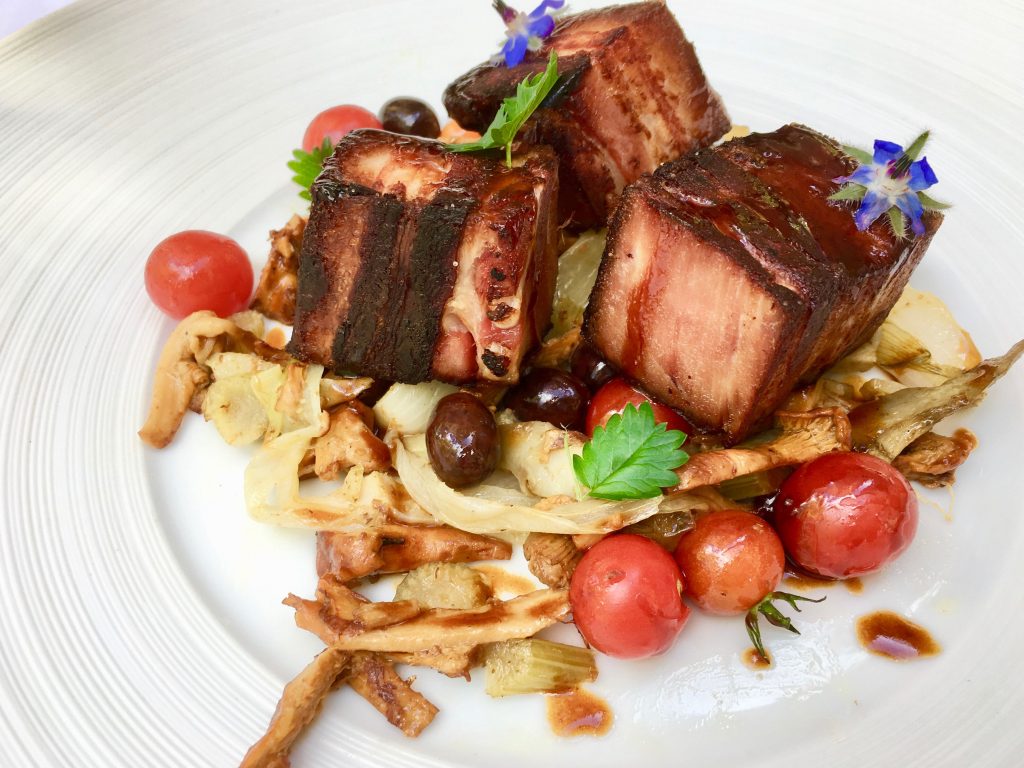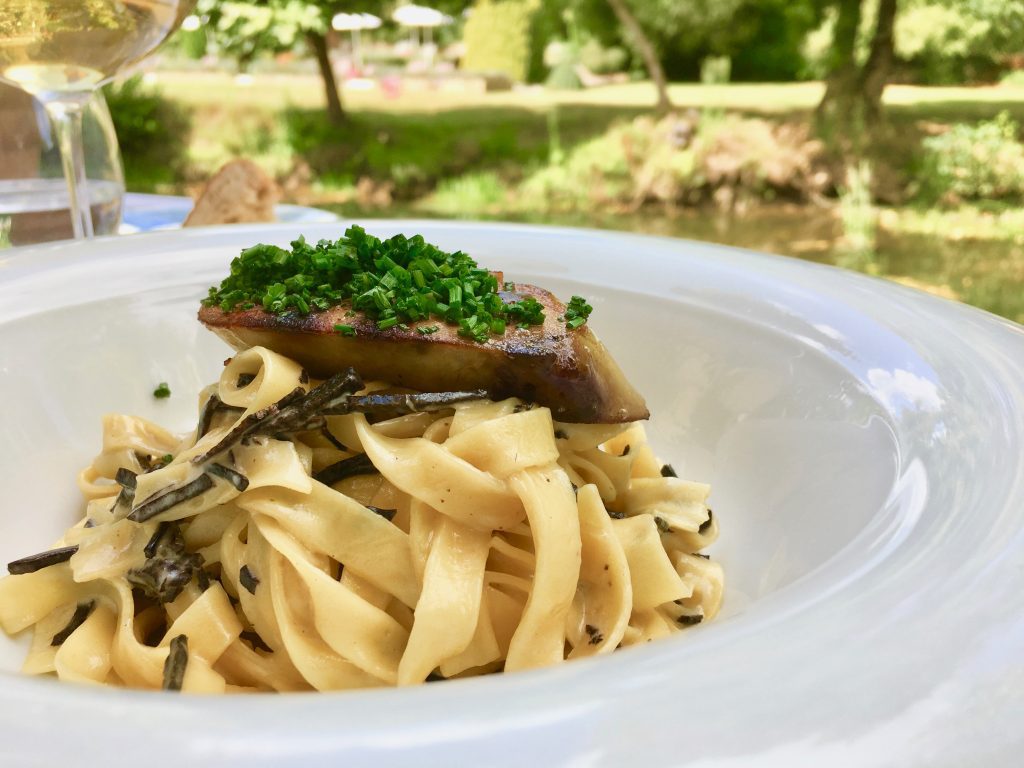 We had to try the chocolate mousse over chocolate shortbread (12€) and also shared the lime soufflè tart with strawberries (14€) with our tea and espresso. Both worth the calories.
It's well worth the side trip to dine at Le Moulin Du Roc when in the Dordogne.
Ròda
Le Moulin Du Roc Hotel
24530 Champagnac de Bélair
Aquitane
Dordogne, France 24530
+33 (0)5 53 02 86 00
www.moulinduroc.com