Robin Miller, Chef, Author, TV Personality, Nutritionist
We hope you're enjoying our new Guest Foodie BOTB (Bite of the Best)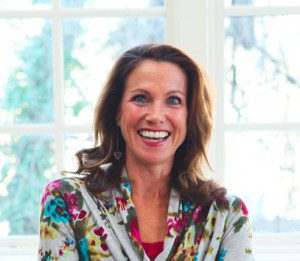 feature spotlighting friends from the foodie universe. Let us know if there's a food professional you'd like us to feature.
Who: Robin Miller
Title: Chef, Author, TV Personality, Nutritionist
Location: Scottsdale, AZ
Website:www.robintakes5.com
Twitter: @robinvmiller
Facebook: robinmillercooks
I met Robin in the early '90s as she was just starting out. Today, we're good friends and — as I'm her agent and manager —  business associates, too. We're quite proud of her latest book, "Robin Takes 5," published last fall by Andrews McMeel Publishing, and we're busy on some soon-to-be-announced other projects. 
– bonnie
"I blog every week on www.foodnetwork.com/healthyeats, I'm working on my 10th cookbook and I have a new show in the works! I'm busy and happy!"
Which specific food product or gadget would you never give up? Why? I would never give up my 10-inch skillets! I cook everything in them – both non-stick (for eggs and fish) and regular (for foods I want browned and caramelized, such as chicken and onions; then I deglaze the pan with broth or wine and scrape up the tasty brown bits). You can't beat a good-quality skillet. It's the only tool you need when you want to create an entire meal from start to finish, in one pan.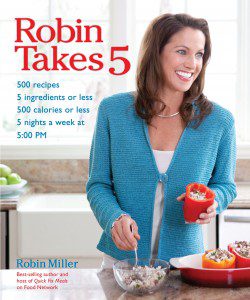 What do you like to serve when you entertain? For cocktail parties, I love to serve several "little bites," such as savory tartlets (made with puff pastry and wonton wrappers and baked in mini muffin tins), pot stickers and beggar's purses, puff pastry twists with pesto and parmesan, mini kebabs with chicken, steak and veggies and a peanut dipping sauce and stuffed cherry tomatoes or pickled peppers (stuffed with herbed cheese). One bite is just right when your drink is in one hand! For dinner parties, I almost always serve my food buffet style, and I offer pork and beef roasts, roasted chicken, pasta dishes and baked casseroles, vegetable side dishes, salads and dessert. I like how casual the vibe is when everyone helps themselves.
Describe your "last meal?" Angel hair pasta in a marinara sauce with green peas and wild mushrooms; my homemade garlic-mozzarella calzone and my chocolate chip cookies with extra semi-sweet chocolate chips and vanilla extract.
What food is your secret guilty pleasure?  In Arizona, Streets of New York Pizza's "pizza primavera" with onions, peppers and black olives. I eat it every week! Not a big secret anymore.
What is your go-to, neighborhood restaurant?  Zipp's Sports Grill. The food is fresh and fast, and we (my boys included) love the grilled chicken tacos on corn tortillas, spicy chicken tortilla soup, house-made salad and chocolate brownie skillet!
What is one food product most people don't know about, but should? Frozen bread dough. Tastes bakery fresh when cooked and can be transformed into pizzas, calzones, flatbreads, rolls, knots, twists, pretzels (including cheese-stuffed pretzels) and more. The folks that ARE aware of the loaves aren't always savvy about the unlimited ways to use them. I buy 5 loaves at a time so I always have one or two in my freezer!