Lucky me!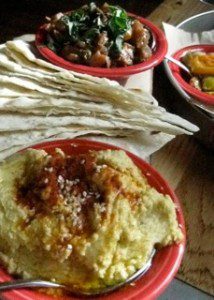 I met Rizzuto's publicist for lunch recently at the restaurant located in the Saugatuck section of Westport, and ended up trying many of their delightful and delicious menu items featuring simple ingredients in classic presentations.
We began with their vegetable antipasto that included Roman artichokes, Mediterranean olives, roasted sweet Tuscan peppers, marinaded mushrooms, chickpea puree and a Sicilian eggplant caponata ($6, each). The latter two are house-made and served with fresh oven-fired flatbread.
Note to self: be sure to return for a light meal of just the delicious homemade antipasto and a glass of wine.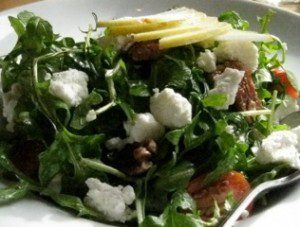 We continued to eat our way through the menu.
Next we had an organic baby arugula salad with sliced fresh pears, soft goat cheese, honey toasted pecans and grape tomatoes with a fig balsamic dressing made with their house-infused vinegars. (I have a feeling that Rizzuto's will soon be selling these homemade delicacies. Stay tuned!)
Wanting to try some wood grilled items we then ate the Rhode Island Calamari, perfectly cooked until just tender and served in a balsamic honey reduction and fresh celery salad. Next cedar-plank scallops wrapped in proscuitto, cooked to perfection to produce tender, moist scallops in a paper-thin crispy coating.
I couldn't not try one of their homemade pastas or wood-fired thin crust pizza. The Pappardelle Bolognese ($18) is a must — a rustic tomato-meat ragu finished with a touch of cream and topped with fresh cheese. Deliciously filling.
The San Gennaro pizza container ricotta, hot Italian sausage, sauteed bell peppers, hot Lombardo peppers, caramelized onion and roasted garlic ($15) —  served on a wire mesh so that the crust remained crisp!
No room for dessert – but how could I resist their Sicilian Cannolis ($8), dipped in chocolate and toasted pistachios with a not-to-sweet orange chocolate chip cream.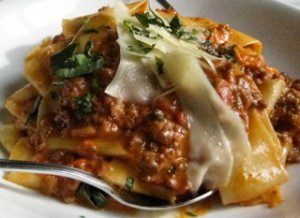 Scratch that previous note to self, instead — just return!
– bonnie
Rizzuto's Wood Fired Kitchen & Bar
540 Riverside Avenue
Westport, CT 06880-5702
203-221-1002
www.rizzutos.com