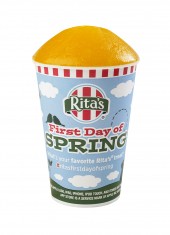 Rita's Italian Ice will be celebrating the First Day of Spring on March 20th by giving-away free Ice.
Rita's Italian Ice, is the nation's largest Italian Ice concept now with over 625 outlets in 19 states. With its motto, "Ice, Custard, Happiness,"  Rita's traditional Italian Ice is a smooth treat made with real fruit available in over 60 flavors.
On March 20th, guests can choose from the popular flavors including cherry, Alex's lemonade, mango, Swedish fish, Florida orange and island fusion to receive a free cup of ice.
For a location nearest you, click here.
– guest contributor