I don't know why, people rave about Ristorante Luce in Hamden, CT, as I find it acceptable but nothing to special.
I did have a decent dish last time I met some friends there. I requested the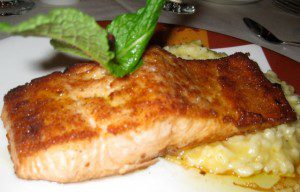 Salmone Risote ($14) just pan-fried not blackened as offered on the menu. They were accommodating and the salmon was delicious — not overcooked — and served over a tasty asparagus risotto and drizzled with basil infused olive oil.
Decent restaurant, but definitely not worth going out of your way for.
– bonnie
Ristorante Luce
2977 Whitney Ave
Hamden, CT 06518
203.230.0228