"Berlin?" asked the helpful American Air Lines person I was speaking to, offering another city I might fly to after I had dismissed Paris, Rome and Lisbon because I'd been before.
I wanted to fly comfortably in style to my son's wedding in Europe last month, but didn't want to use all my miles. If I wanted to choose the days, it could have cost me up to 65K miles each way for Business Class seats; yet only 20K for off-peak low fares if I could find one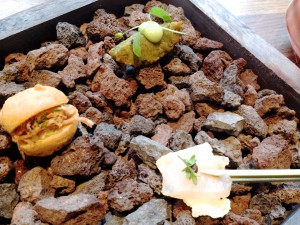 .
I paid the extra 25 bucks to speak to that amazingly helpful human. Once she learned that I was completely flexible about dates, times and European cities — as long as I was in Barcelona for the big day — she helped me find a way to fly for 50K round trip.
And so…. I started my excursion in Berlin complements of a flexible schedule and the knowing it's cheap to fly within Europe. (How's $69 from Barcelona to Brussels, my third stop?)
Berlin is worth a visit. Once you arrive, it's easy to get into the city on public transportation (2.70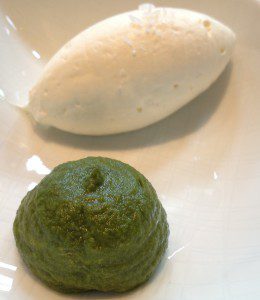 Euros/ ~$3). Musts in this walking city include the iconic Brandenburg Gate, the East Side Gallery (a mural memorial on a section of the remaining Berlin Wall) and more amazing museums than possible to see in one visit — although I tried. The most moving one to me was the  underground free museum with the Memorial to the Murdered Jews of Europe (an eerie uneven field of almost 3000 different height concrete slabs.) Bring lots tissues  and allow enough time to hear many of the recordings of survivor's stories. (Visit Berlin for tips, tours and offerings of the 12 Berlin districts).
When friends heard I was heading to Berlin, Volt in the Kreusberg district was the do-not-miss restaurant. With food that pleased both the eyes and palette, this restaurant is not to be missed. Volt made industrial space charming inside an old transformer station. Their 5-course prix fixe menu is a barga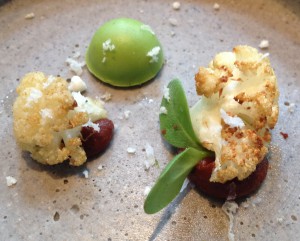 in at 75 euros (~ $85 at today's prices) with smaller-course tasting-menus available for those, like me, who can't eat that much.
My first glass of their reasonably priced wines was a 2013 Reisling, Feinherb, Becker Landgraf (5.50 Euros/$6.25), which went well with the first bites the chef sent out: A housemade potato chip with catfish and garlic served in a wooden pincer, pulled pork in a mini profiterole and a delicate falafel wedge topped with lovage ream and mini watercress.
While waiting for my order, I had to restrain myself from devouring the basket of crusted dense breads served with two fresh butters –  one simply salted, the other vibrant green from the celery.
Next came another dish to that tickled my tongue: two braised cauliflower florets, each nestled in red carrot crème and a small panna cotta of peas. I ordered the Grauer Burgunder Katzbosh, Weingut Leiner Pfalz (6.50 Euros/$7.40).
My first actual menu-o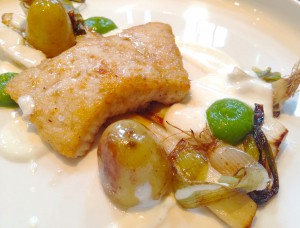 rdered dish was the zander (a fresh water fish from the local river) with artichokes and sliced kolrabi atop a vegetable aioli all sprinkled with arctic char caviar and dusted with sepia crumbles.
When the seared sturgeon with roasted white asparagus and celery, fresh cream cheese all over a leek puree, with fingerling potatoes and pea cream arrived, I knew I couldn't eat much more. I motioned the waiter and cancelled my next course. I wanted to leave just enough room for my array of incredible local cheeses cow's milk German cheeses I was having for dessert.
Those local morsels included Bia Aurela, an aged hard cheese from the south; Antoine's first love; and a semi-hard village cheese for with housemade red onion-port wine chutney, a celery-spiced apricot and tarragon treat, fig and cherry fruit loaf and salted smoked almonds. With that I enjoyed a glass of Spätburgunder.Vulkangestein, Burggarten, Ahr 2013 (5.50 Euros/$6.25). Their final touch to all guests were some chewy gels.
Where are those Michelin reviewers? Volt deserves at least a star, where the Michelin starred place I visited in Berlin didn't. Stay tuned for that.
– bonnie
Restaurant Volt
Paul-Lincke-Ufer 21
(Kreuzberg District)
10999 Berlin
Open only for dinner; closed Sunday