A low calorie, low fat, modest sodium, high fiber soup, chock full of vitamins and mineral
A vegetarian kale and red lentil soup
Soup lovers
The recipe being demonstrated earlier this month on morning CBS TV piqued my interest. A chef from Whole Foods was preparing a delicious sounding low-fat soup with red lentils and kale. When she was done, she offered a taste to the hosts, who backed away as if repelled from her saying, "No thanks!"
I laughed, as I couldn't wait to try it! In fact, I went off to the store to pick up the eponymous ingredients, then back on the cold winter's day to make a pot of this nutritious and quick-to-make soup.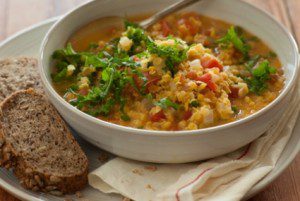 Kale had been called spinach on steroids because it's so packed with nutrients.  It's low in calories (about 35 per cup), and rich in vitamins A and C, and manganese. It's also a good source of  vitamins B1, B2, B6 and E, and calcium, copper, iron, lutein, and zeaxanthin.
Red lentils are no slouch nutritionally — they're rich in protein, fiber, folate, vitamin B1 and many minerals, including iron and copper. We also posted another quick to make, tasty red lentil soup recipe this week.  Click here to check that one out, too.
Here's my adapted recipe.
Red Lentil Kale Soup
1 teaspoon cumin seeds
1/2 large onion, chopped (about 1 cup )
14.5-ounce can diced tomatoes*
2 cup red lentils
2 cups low-sodium broth (vegetable, chicken or beef)
1 cup light coconut milk
2 cups shredded fresh kale**
Salt to taste
Lemon wedges, optional
Heat a 2-quart saucepan over medium heat until hot. Add cumin seeds and cook, stirring occasionally, 1 minute or until aromatic. Add onion and cook, stirring frequently, until beginning to brown and stick to the pot, about 5 minutes. Add tomatoes with their juice and cook 2 minutes longer, stirring frequently. Add lentils, broth, 2 cups water and coconut milk; bring to a boil. Reduce heat to low, cover and simmer 30 minutes, stirring occasionally. Add kale and continue cooking 10 minutes, covered, or until the lentils are tender. Add salt to taste. If desired, serve with a lemon wedge.
Makes 6 to 8 servings
Musings…
Meats:  Carnivores may want to add some diced bacon or sliced sausage before adding the chopped onions.
*Tomatoes: Any diced or crushed tomatoes will do. If you like a bit of spice, use ones with added fiery peppers as I did. I added Muir Glen Fire Roasted Petite Diced Tomatoes with Chipotle Peppers. You could also use Rotel Tomatoes & Diced Green Chiles.
**Kale: Remove and discard tough ribs before shredding.