Red Cat owner Jimmy Bradley shared this simple recipe for a quick sauté of zucchini from the restaurant's eponymous cookbook. Like all the food I've sampled at the restaurant, this dish lets the fresh vegetable shine.
If you decide to double this recipe, be sure to use two skillets — as Red Cat never makes more than two servings in one pan at a time.
– bonnie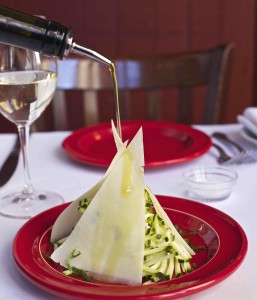 Quick Sauté of Zucchini with Toasted Almonds and Pecorino
2 tablespoons extra virgin olive oil, plus more for serving
2 tablespoons sliced almonds
2 1/2 cups zucchini, sliced lengthwise 1/8th inch thick, then sliced again to resemble matchsticks (about 3-4 small zucchini)
Salt and freshly ground pepper to taste
2 ounces Pecorino romano, sliced into very thin sheets
Heat the oil in a large, heavy-bottomed skillet over high heat.  When the oil is hot, but not smoking, add the almonds to the skillet.  When the almonds are golden brown and toasted (approximately 30 seconds), add the zucchini and toss to coat zucchini with hot oil. (You just want to warm the zucchini, not cook it.)
Season with salt and freshly ground black pepper. Return to heat for about 30 seconds to warm throughout. Divide zucchini and almonds among 2 warmed plates, top with the sheets of pecorino and serve while it's still nice and hot.
Makes 2 servings