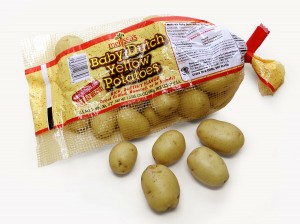 As a food writer, companies always email me with details of new products, which is how I learned about Melissa's Baby Dutch Yellow Potatoes.
Melissa's has always carried different types of baby potatoes, but  the Dutch Yellow Potatoes stood apart from the rest and became our best selling specialty potato, emailed Robert Schueller, publicity director for Melissa's public relations.
I had to try these potatoes that he described as  tasting "buttery" and moist.
The day I received them, I was brain-dead from intense contract negotiations so I tootled around the web looking for cooking ideas to spark my creativity.
I tripped over Heidi Swanson's 101 Cookbooks site with a recipe for Lori's Skillet Smashed Potatoes. (I met Heidi on a trip to Puglia, Italy, a few years ago.) I ogled her photos, recalling that she's a photographer turned food writer — and a good one… both photographer and writer. That photo and the recipes I saw while surfing the web energized and sent me to the kitchen to being testing. Here's some of my results:
Oven-Roasted Potatoes: Toss about 1 pound halved Baby Dutch Yellow Potatoes with 1 to 2 tablespoons olive oil and salt and freshly ground black pepper to taste. (If desired, add other seasonings — onion powder, garlic powder, smoked paprika, chili powder — to taste.) Spread in a single layer on a heavy sheet pan and into a preheated 425-degree F oven for 15 to 20 minutes until tender and golden.
Smashed Potatoes: What I like about these is that you can partially make them a day ahead, and cook them in about 10 minutes when you're ready. A wonderful thing when you're inviting friends to brunch.
Place 1 pound whole small potatoes in large pot, adding enough water to cover the potatoes. Add salt.  Bring to boil, reduce the heat and let simmer about 10 minutes, until the potatoes are tender. Drain, cool slightly and refrigerate until ready to cook.
Heat 1 tablespoon each olive oil and butter in a large skillet. Add the potatoes, smash with a potato masher (only once) and cook until golden and crisp, turning once. Season to taste with salt and freshly ground pepper.
Tomato-Chevre-Potato Frittata: Cook 1/2 pound diced potatoes in boiling salted water for 5 to 7 minutes until tender; drain. (This can be done the night before.) Cook in 2 teaspoons each butter and olive oil in a medium heavy-bottomed skillet with and ovenproof handle over medium-high heat  until potatoes golden, about 5 to 7 minutes. Add 3 minced shallots and cook until softened, about 2 minutes.  Meanwhile, beat 6 eggs, 1 tablespoon water,  some salt and lots of pepper together in a bowl; stir in 4 ounces crumbled chevre and 2 tablespoons freshly grated Parmesan cheese. Gently stir  eggs into skillet. Slice 2 tomatoes into rounds, lay rounds on top of eggs; sprinkle with remaining Parmesan cheese. Cook 3 minutes or until almost set.  Place under broiler until browned and puffed, about 2 minutes. Cut into wedges and serve.  Serves 4