I've had so many bad business-meeting meals lately, that it was pure delight (as always) to dine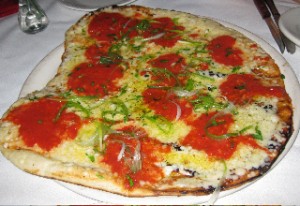 at Al Forno in Providence while visiting Eric.
We of course indulged in their signature grilled pizza, we chose the Margarita ($19.95).
We followed that with Baked Pasta with Tomato, Cream and Five Cheeses ($19.95) and Wood-Roasted Herb Crusted Pork Tenderloin with white beans cooked with tomato and sage, and roasted broccoli rabe ($29.95). All delicious.
Full as we were – we splurged on calories and ordered on the Grand Cookie Finale — six varieties of fresh baked still-warm cookies, warm beignets, candied orange peel and chocolate truffles ($19.95) and chocolate bread pudding with fresh whipped cream ($12.95).
Now if I could only get my business networking meeting to happen in Providence….
Al Forno
577 South Main Street
Providence, RI 02903
402.273.9760