Before heading to San Francisco after a family event in San Luis Obispo, I asked around as to what was new since I had last been. I learned that Nancy Oakes (Boulevard) had opened Prospect on Spear Street. The six of us stopped by for dinner.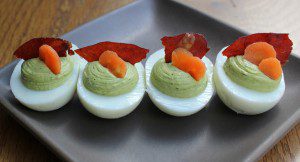 Knowing me, the management sent out lots of nibbles for use to try. Those included four deviled eggs, referred to as green eggs & ham with fine herbs mixed with the yolk giving it a green hew and pickled carrots and crisp prosciutto, AKA "ham" on top ($6). Our favorite were the crispy amazingly flavorful braised rabbit filled taquitos with creme fraiche and a Mayan-style guacamole with charred tomatillo & avocado ($8). Don't miss them or the crisp olive oil crackers with a spicy jalapeno, cilantro and green olive oil hummus  sprinkled with feta ($6).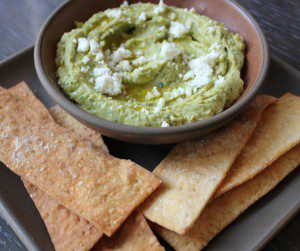 They also sent out a celery root and apple soup.
Our Cielo y Tierra Celador Malbec from Mendoza, Argentina 2008 with its cassis and plum notes went well with all!
Two people at our table had the prix fixe Sunday supper, a fabulous deal at $35 with an avocado salad with sherry shallot vinaigrette seasoned with chervil to start, a tender braised boneless short rib with green garlic mashed potatoes, rainbow carrots, Parisian mushrooms and a jus for their entree, plus strawberry rhubarb crisps with a walnut brown sugar topping over fresh ginger ice cream. Each loved it.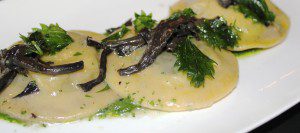 The others ordered from the regular menu starting with the light and delicate seared day boat sea scallops with tiny Nantucket bay scallops over risotto, mildly flavored with uni (sea urchin) and passion fruit  puree ($17). That could have been enough for my entire meal. Others indulged in the ravioli filled with wild nettles, spinach and fonduta and topped with shaved Umbrian white truffles ($18). Heavenly.
We also sampled the local Petrale sole with Zuckerman Farms asparagus, marcona almonds, roasted spring onions, onion soubise ($26);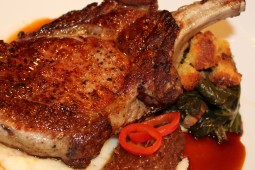 the Alaskan Halibut with black rice "paella" (chorizo, spring peas, manila clams, and one sliver of Spanish octopus ….can you tell I wish there were more?) all in a turmeric beurre blanc ($31).
The favorite at the table was the tender and moist Prather Ranch Berkshire pork chop that's first brined in a sugar-salt bath before being cooked and served with fingerling potatoes, rutabaga and pear puree, rye whiskey roasted pear, with a pork au jus ($32.50).
Those of us who skipped the prixe fixe menu, skipped dessert, as we were bursting from all the extra goodies. No complaints, as it was all incredible.
As we were about to leave to stroll to the Embarcadero to catch the LED light show on the Bay Bridge, our server handled each of us  a bag of fresh caramel corn drizzled with cocoa nib and Maldon sea salt.
I highly recommend Prospect.
– bonnie
Prospect
300 Spear Street San Francisco, CA 94105
Cross Street: Folsom
(415) 247-7770