Silly me. I didn't get the name of the restaurant, until the general manager explained it to me. Pounds = meats; ounces = drinks. I did, though, realize I had discovered a hidden gem in Chelsea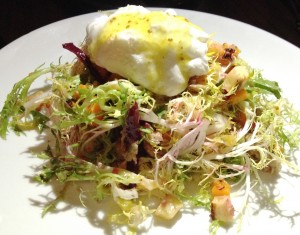 serving comfort food with a twist.
As you walk in you'll notice a huge odd-shaped glass table lit from underneath that's used for parties (it can accommodate up to 35 people) while the back wall contains the whimsical "food fight" mural by Manny Castro.
As their guest, I sampled four crisp coconut shrimp ($14) over a vanilla parsnip puree served with mache salad, garnished with pomegranate arils; and the mussels steamed in saffron infused white whine  ($12) with cherry cherry peppers, chorizo chunks and fennel slices served with thick grilled bread. Either is a good way to begin.
Don't miss the poached egg topped duck confit salad with frisee, diced roasted butternut squash and pickled in a light maple Dijon vinaigrette ($13), or the double-battered fries ($5). Also available are battered asparagus fries ($10) with a Meyer lemon aioli ($9)
The one miss was the bland cavatelli carbonara ($19) — pasta, tossed while hot, with an egg, parmesan, roasted Brussels sprouts, undercooked bacon lardons and cipollini onions. But the tender bourbon-braised short ribs made up for that, accompanied by glazed root veggies and stone-ground grits flavored with maple smoked cheddar ($24),
For a light yet tasty dessert sample the S'mores macaroons, two pink macaroons filled with Nutella, dulche de leche marshmallow fluff ($8)
Don't miss this neighborhood corner favorite with a lively ambiance.
– bonnie
Pounds and Ounces
Chelsea
160 8th Ave
New York, NY 10011
(646) 449-8150