When my financial adviser suggested we have lunch at a pizzeria in Fairfield, I was a bit surprised as we had previously dined at nice restaurants.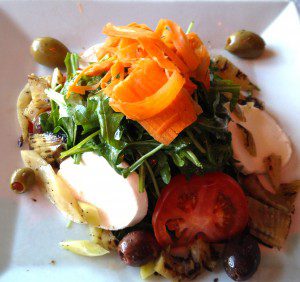 I was even more shocked when I was greeted at the door by a handsome waiter, waiting to talk us to a white tablecloth topped table with decent glassware. A pizzeria this Molto is not.
As we perused the menu, we were given crusty nice-textured bread and a rich green olive oil, seasoned with hot peppers. And I sipped on my glass of Zaccagini Montepulciano from Abruzzi($9) that went well with both my salad and our entrees.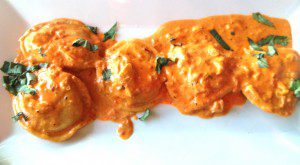 My piled high arugula salad ($9) came lightly dressed with a delicate lemon vinaigrette, topped with carrot shavings along with sliced mozzarella, black and green olives, roasted fennel slices and sliced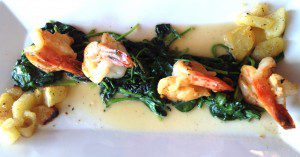 tomatoes. Even without the offered chicken ($3), shrimp ($6) or steak ($5) these veggies could have been a meal in itself.
My friend always ordered the lobster ravioli ($12.5), so I acquiesced as it was his favorite, and I love lobster! The rich pink crab sauce was delicate and went nicely with the five lobster-filled ravioli. If I returned, I'd ask them to cook the pasta a bit less, as the filling was a bit overcooked.  The other  entree we slit were "spicy" garlic shrimp ($15.50), although the five shrimp weren't spicy at all, they were tender — not overcooked— and served  with sauteed spinach, lots of garlic, a few potatoes all in a delicate white wine sauce.
I'd recommend a visit, especially for lunch.
– bonnie
Pizzeria Molto Wine Bar
1215 Post Rd
Fairfield, CT 06824
(203) 292-8288
Fairfield
pizzeriamolto.com