Pio Pio — an upper east side Peruvian restaurant specializing in roasted chicken — is one of Manhattan's true bargains.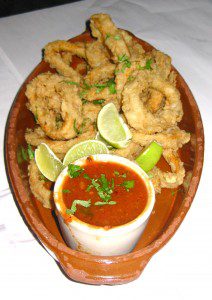 Seriously, who would have thunk that an order of Matador Combo ($32) would stuff three with enough leftovers for two or more. We didn't, which is why we started with an order of lightly battered and quickly fried calamari ($12) that we couldn't finish and ordered a side avocado salad ($4).
Silly us.
The portions at Pio Pio are more than plentiful, they're humongous. Back the that Matador Combo. One serving consists of  a cut-up whole rotisserie chicken, some rice and beans,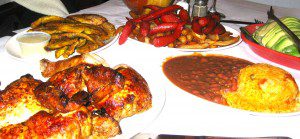 tostones (crispy fried plantains with a creamy jalapeno dipping sauce), avocado salad and a giant pile of fries topped with salchipapa (sliced sausages that taste like hot dogs).
One order is more than enough food for a family of four or six. And did I mention that the chicken is moist, incredibly tender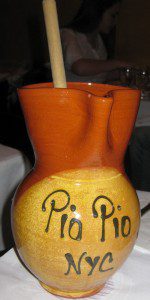 and flavorful? Finger licking good.
All the food went well with their delicious jar of sangria ($22).
We ate early by New York standards, so there were no lines at this tiny (two-white-tablecloth-table wide) restaurant. But be prepared to wait — it's worth it.
– bonnie
Pio Pio
1746 First Avenue
(between 90th & 91st streets)
New York, NY
212-426-5800
(also 7 other locations in New York City)
Save