My first experience at Pio Pio, a Peruvian small New York area restaurant chain, was remarkably good, but not so this time at their Hell's Kitchen location.  The noise is deafening – literally. I couldn't hear the person sitting next to me. To make it worse, the serve was spotty, having us wait a long time to order, and even longer to receive our food.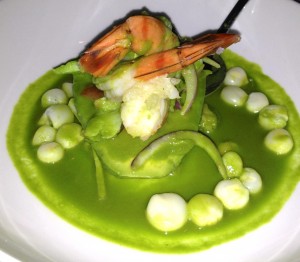 On a positive note, the food is plentiful and — for the most part — tasty.
Although we each ordered our own ceviche, we could have easily shared the huge portion of marinated fish and had leftovers to spare. Yes, the portions are that big. The classic ceviche limeno has with chunks of fresh corvina marinated in lime juice mixed with red onions, cilantro and Peruvian corn with a choice of heat levels from the rocoto hot pepper ($18). The bright green palta rellena was flavorful with  an avocado stuffed with shrimp, red onions, tomatoes and corn marinated with a fresh lime, all in cilantro dressing ($18).
Six of us shared two entrees and couldn't finish them. This time I preferred the arroz con mariscos ($30), as the rice mixed with sautéed scallops, octopus, mussels, shrimp and squid in a red sauce arrived steaming hot.  Sadly the waiter served us the hearty portion of the matador combo ($38) at room temperature and then disappeared. That dish has enough chicken to satiate four or more hungry adults, plus rice and beans, tostones (fried plantain),  salchipapa (fries and hot-dog like sausage pieces), plus a fresh tomato and avocado salad.
I recommend avoiding Hell's Kitchen Pio Pio, that is, unless you're trying not to speak to your dinner companion.
– bonnie
Pio Pio
Hell's Kitchen
604 10th Ave
New York, NY 10036
(212) 459-2929