Marika Vida, wine director at Ritz-Carlton Central Park and a fellow Dame — member of Les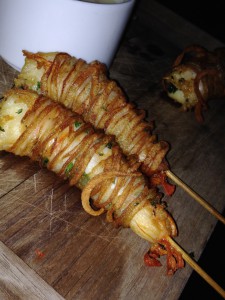 Dames d'Escoffier — invited me to attend one of her Phenomenal Femmes Wine Dinners, part of a series highlighting pioneering women of the wine industry. This one featured Audrey Herd-Smith of Antinori, wine pairings by Marika and a four-course dinner created by Executive Chef Mark Arnao.
Before being seated, we sipped bubbly Montenisa Franciacorta Rose, as we nibbled jumbo shrimp wrapped i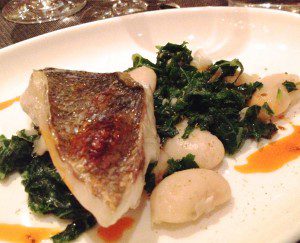 n shredded potatoes served with a scampi sauce.
With each course and wine, Audrey Herd-Smith shared her wisdom and knowledge about the wines.
We sipped the crisp Guado al Tasso Vermentino 2013, as we ate branzino over white beans, kale and a fennel ragout all drizzled with paprika oil.  Next, cavatelli in white truffle cream (topped of course with white truffle slices) served with three outstanding 100% Sangiovese wines, each showing a sense of place (the different soils where they were planted): Badia a Passignano Chianti Classico Riserva 2008; Santa Pia Vino Nobile di Montepulciano 2006; and Pian delle Vigne Brunello di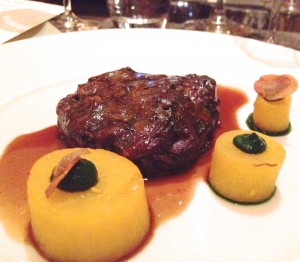 Montalcino 2009.
Our main course was osso buco, braised oxtail with saffron potatoes filled with garlic spinach, served with the original Super Tuscan — Tignanello 2011.
We ended with blue cheese, fig jam, diced orange rind and — my favorite — dark chocolate-dipped orange rind, washed down with Castello della Sala Muffato della Sala 2008, a sweet sauvignon blanc.
Tickets for special wine dinner cost $150, with a percentage of the proceeds donated to the Women's Shelter at St. Bart's NYC.
The next in the Phenomenal Femmes Wine Dinner series will be held on January with Lilian Barton Sartorius, owner of the Bordeaux estates Chateaux Langoa and Léoville Barton. The wines will be celebrating the 2000, 2004, 2005, 2009 and 2011 Bordeaux vintages from Chateaux Léoville Barton. Tickets are $350 per person, with limited seating.
Other upcoming dinners are scheduled March 4th with Amelie Chatin Winemaker for Ruinart Champagne and April 16th with Owner Suzanne Pride and Winemaker Sally Johnson of Pride Mountain Winery, Napa Valley. For additional information click here.
– bonnie