My friend raved about the Caesar salad at Petrarca, saying it was the best in the city. She was serving on jury duty in the area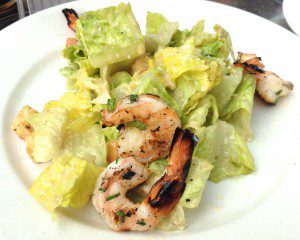 and often stopped by at lunch for the restaurant's Caesar salad with grilled shrimp ($17).
I had to try it.
Our server Emilio — whose family owned the restaurant — provided background on all the wonderful food and graciously split what we were sharing in the kitchen. We nibbled the crusty bread from Grandaisy bakery (Tribeca) dipped in the rich Greek olive oil while sipping the rich, full bodied and a bit fruity Federico Primo cab ($28 a quartino, or quarter liter).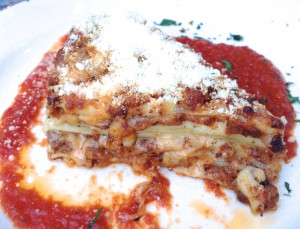 Emilio explained that they make their own dressing for the Caesar salad using the Greek olive oil and fresh anchovies, and they season the shrimp with Italian spices before grilling it to order. That resulted in perfectly cooked, tender shrimp topping the crisp salad. We followed that with their Lasagna della mama ($21.50) with housemade noodles. Layers of heaven.
I'd recommend both satiating delicious dishes, and plan to return to sample more.
– bonnie
Petrarca Cucina E Vino
Tribeca
34 White Street
New York NY 10013
212.625-2800