This fall recipe using pulled apart Brussels sprouts (one of my favorite veggies) caught my eye when thumbing through the new The Four Seasons of Pasta cookbook by mother and daughter team, Nancy Harmon Jenkins and Sara Jenkins.
– bonnie
BonnieBOTB
Follow @BonnieBOTB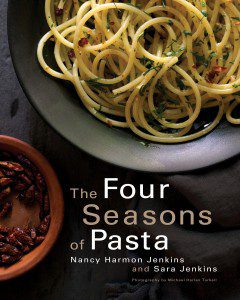 Brussels sprouts have graduated from most hated item on the school lunch tray to the glory of the kitchen as smart chefs and adventurous cooks take this old-fashioned vegetable to new heights of flavor. Pulling the individual sprouts apart and separating the leaves gives them a touch of glamour that is accented by the crisp, salty pancetta dice and the resinous flavor of rosemary. Here's how to do it: Simply trim off the base of each sprout and pull off the leaves, then cut the base again and pull off the leaves; keep doing this until there's nothing left but a little nubbin of sprout that you can add to the leaves. The lightly browned and wilted whole leaves have a very pleasing effect, quite different from simply shredding the tight heads of the sprouts. A wok is great for making this recipe, giving you plenty of room to toss and stir the sprouts with the pancetta.
Pennette with Brussels Sprouts and Pancetta
1½ pounds Brussels sprouts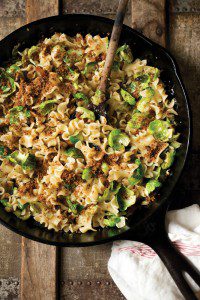 ¼ to ½ cup dry unflavored bread crumbs, coarsely ground
3 tablespoons extra-virgin olive oil
¼ to ½ cup grated pecorino toscano or pecorino sardo
1 tablespoon unsalted butter
3 ounces diced pancetta, to make ½ cup
1 tablespoon chopped fresh rosemary
Pinch red pepper flakes, preferably Aleppo pepper, or ground piment d'Espelette
Sea salt and freshly ground black pepper
About 1 pound (500 grams) pennette, maccheroncini, or other short stubby pasta
Prepare the Brussels sprouts, teasing the leaves apart, following the directions above in the headnote. You should have 7 to 8 cups of sprout leaves in the end.
Combine the bread crumbs with 2 tablespoons of the oil in a small skillet and set over medium-high heat. Cook, stirring and watching carefully, until the crumbs have taken on a bit of color and crunch, then scrape into a small bowl. As soon as the crumbs have lost some of their heat, stir in the grated pecorino. Set aside.
Combine the butter and the remaining 1 tablespoon oil in a saucepan over mediumhigh heat. Let the butter melt and foam, then add the pancetta dice and cook, stirring, until the pancetta starts to change color and crisp. Add the sprout leaves in handfuls, stirring each handful in carefully and letting it start to wilt before you add another. If necessary, add a couple of tablespoons of boiling water to keep the sprouts from sticking to the pan—but the sprouts should brown and not simmer. Stir in the rosemary and a good pinch of red pepper flakes, along with a pinch of salt.
Taste for seasoning, adding more salt if necessary along with several turns of black pepper. Then set aside in its pan.
Bring a large pot of water to a rolling boil. Add salt and the pasta and cook following the directions on page 000. As soon as the pasta is al dente, drain and turn it into a warm serving bowl along with the warm sprouts and pancetta. Toss to mix well, then dress with the bread crumb– cheese mixture and serve immediately.
Makes 4 to 6 servings
Reprinted by arrangement with Avery Books, a member of Penguin Group (USA) LLC, A Penguin Random House Company. Copyright © Nancy Harmon Jenkins and Sara Jenkins, 2015.