On a warm Sunday recently, I went on an ingredient search with a friend around the streets of NYC, and then ended up at Peels on the Bowery for breakfast.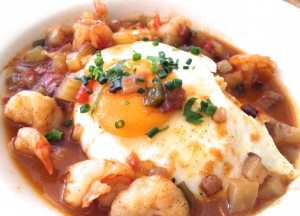 In addition to the traditional Bloody Mary, Peels offers a spicy Maria made with jalapeno-infused tequila ($10) that hit the spot.
For brunch, my friend ordered the free-range boneless fried chicken sandwich ($12.95), with pickles, iceberg lettuce and honey  mustard accompanied by lots of fries.  I had the shrimp and grits — with small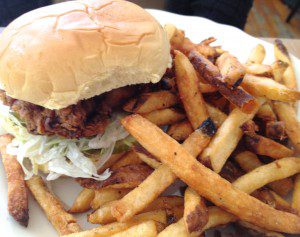 in a tomatoey Cajun sauce with house made tasso over the jalapeno-infused grits topped with a fried egg ($13.25). I recommend.
While there, we got chatting with our neighbors, who were less than pleased with their service. He asked for a biscuit as an appetizer. His biscuit — and hers — arrived with his meal, but without hers. Not appropriate to serve him and not serve her until almost 10 minutes later. That and the waiter, almost never spoke a word to them.
We had an similar experience — not with the timing of our food — but with the lack of communication. If management is smart, that waiter will either be gone or trained (as he was just in his second week!).
– bonnie