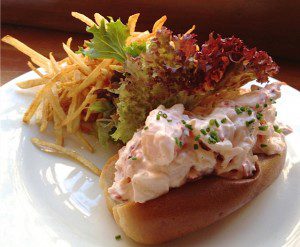 I found the trick to not waiting for an hour or so outside Pearl Oyster Bar in the West Village. Go early. Just think of it as a late lunch – or go for lunch!
Being in the mood for lobster, I ordered Pearl's raison d'être – the amazingly overstuffed lobster roll with with salty matchstick fries ($28).
"Pearl buys between 1800-2400 pounds of lobster per week, some for lobster dinners, but mostly to be steamed, picked and chopped for the lobster roll," said Rebecca Charles, chef-owner. "I have always believed in doing all of the production in house."
Last week, Rebecca Charles generously served this signature dish to about 950 party goers at a fund raiser for SHARE, a non-profit organization that offers free peer support to women with breast or ovarian cancer, their families and friends.
I've heard that all their seafood is fresh and delicious — I'll just need to return to sample some more.  For sure, the overstuffed lobster roll alone is worth the trip!
– bonnie
Pearl Oyster Bar
18 Cornelia St
New York, NY 10014
(212) 691-8211
pearloysterbar.com