While visiting Berlin earlier this year, I made a late lunch reservation at the 1-star Pauly Saal, a restaurant that I had both read and heard about. My expectations were high.With a Michelin star, I expected both impeccable service and remarkable food.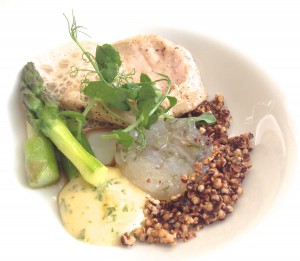 I was seated outside in the restaurant garden at a white cloth-covered table under a giant umbrella. My choices included either the 3-course prix-fixe lunch for a reasonable 49 Euros (~$55) or a la carte. The 34 Euro 2-course option that I had read about and had seen on their website was not available.
I selected my courses, asking my server to recommend German wine pairings. Oddly there were no chef's offerings to tickle my palate so unlike my amazing meal at Volt. I did get a basket of some ho-hum bread with butter, not what I'd expect in a country known for their fabulous crusty loaves.
My server suggested a Wittman Riesling Trochen 2013, leaving me perplexed when he just poured the wine (7 Euros; ~$7.75), not offering a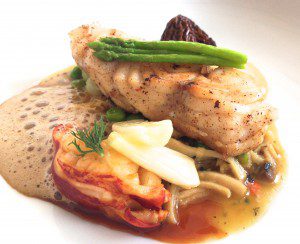 taste first once I agreed to his selection.
"So sorry," he uttered a bit sarcastically as he walked away. That wine did match my first course of the cheek of pike, a pounded thin raw prawn, asparagus tops propped next to a delicate coriander mousseline, with a textural addition of crispy, crunchy quinoa. A perfect blend of textures and flavors.
Once I finished that course, my empty plate sat in front of me with servers constantly walking by. Finally I motioned to one of them to take my plate.
I sat there for waiting for my main course that the server had described as pike perch fillet with lobster and crunchy vegetables, with more asparagus, morels, carrots, peas and leeks topped in a caper hollandaise sauce.  I was served a 2011 Le Patriot Blanc Domanine de l'Horizon waiting to accompany the course (9 Euros;  ~$10).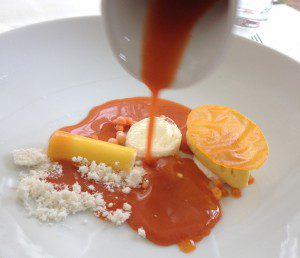 As I continued to sit, I heard the kitchen bell, indicating my dish was ready for service. Another five minutes passed. More bells. Soon I could hear the person angrily banging on the bell to try to get the attention of the server. Obviously the preparer was annoyed that no one picked up the dish.
And obviously that's why those purportedly crunchy veggies were not so, something I might have told a server if one stopped by to ask if I needed anything.
Dessert though was perfection – both beautiful and delicious. Sugared carrot sauce poured over a passion fruit cannelloni filled with yogurt mousse and a passion fruit sorbet topped with a pumpkin chip.
I'd recommend that Michelin send a reviewer back. Pauly Saal's food is divine, but their service lowers my opinion of Michelin's 1-star.
– bonnie

Pauly Saal
Auguststraße 11
10117 Berlin
Germany