While visiting in Lisbon, I was delightfully invited as their guest to Jose Avillez more casual patio part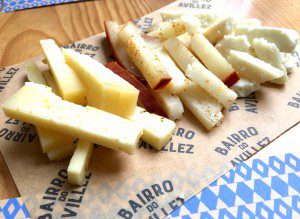 (The Páteo) of Bairro do Avillez in Chiado where fish and seafood are said to be king.
Their bread service (~$4 per person), not to be missed, of crisp olive bread, corn bread and the chewy-crusted Alentejo region bread comes with marinated Galician olives plus both Azorean and smoked butter. With that, we ordered a selection of three cheese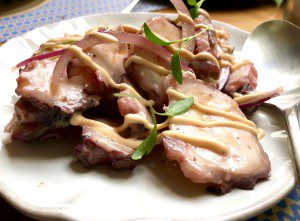 that they picked for us (~$11.25), one cow, one goat and the other sheep.
Do not miss the giant coal-grilled tiger prawn with a Bairro's special pepper-spiced butter sauce ($17.50). I also liked the chilled grilled veggies with smoked eggplant and cumin-spiked yogurt sauce ($7). Also served chilled is their octopus salad with a garlic and kimchi emulsion, cilantro sprouts and red onion ($10.50). What I liked better was their beef tenderloin pica pau (woodpecker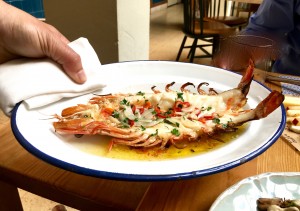 style)  in garlic with three sauces ($16.75), a smoked mayonnaise, kimchi mayonnaise and avocado cream.
Preferring apps in Spanish restaurants as they let me sample many flavors, we only split one entree  — and we had to order a serving of the fries, as we were in front of the open kitchen noticing them go out. The delicate and moist cod loin wore a chorizo and bread crust and came with potatoes with an onion emulsion ($28). Those fries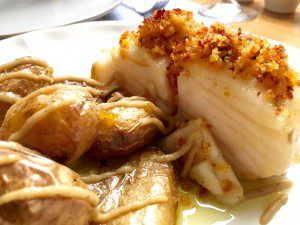 were worth every calorie!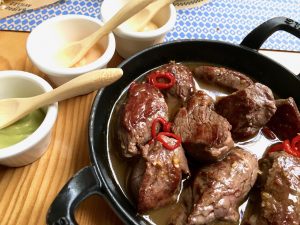 So glad we opted to experience their dessert, as the rich textured mousse with ice cream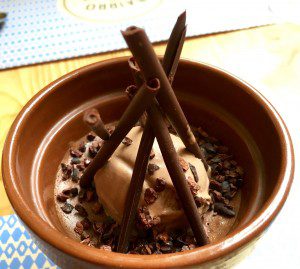 and chocolate shavings ($8) is not to be missed.
If you find yourself in Lisbon, I highly recommend a visit to The Páteo.
– bonnie
Páteo at Bairro do Avillez
Chiado
Rua Nova da Trindade
Lisbon, Portugal

Save
Save
Save