Boy was I wrong!
The name Pasta Cosi had connoted a mediocre chain restaurant to me — it's anything but. I ended up there one Sunday recently on the spur of the moment with some friends as I was in Branford. I was quite impressed with the restaurant, especially the fresh pasta.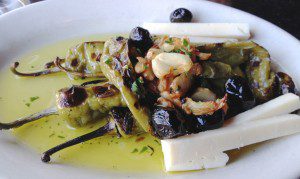 We started by nibbling the crusty fresh bread, dipped into their rich flavorful imported EVOO and grated cheese.  Our app was the evening's special of  grilled longhorn green peppers with lots of crisp garlic, kalamata olives and Asiago cheese ($14), described as hot, yet quite mild and flavorful.
Wines — compared to NYC — are quite reasonable at $8 for a glass of Sangiovese.
We then indulged in the raison d'être  — their housemade pasta. You first select your sauce, then choose the pasta!  My favorite was the arribbiata, a simple garlic-basil plum tomato sauce spiced with crushed red pepper tossed with bucatini  (a thick spaghetti-like pasta with a hole running through the middle, $14). Also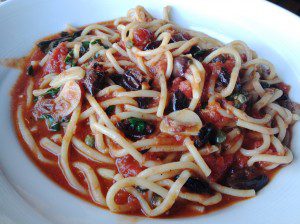 tasty is the puttanesca (literally in Italian "whore's style spaghetti") of plum tomatoes seasoned with capers, anchovies and black olives; we also selected bucatini for that ($17).
For the eponymous sauce ($18 )  — crumbled sausage, broccoli rabe, white beans and sun dried tomatoes  —  we opted for the penne pasta suggested. Delightful.
I highly recommend a visit to Pasta Cosi.. just be sure you make a reservation.
– bonnie
Follow @BonnieBOTB
Pasta Cosi
1018 Main Street
Branford, CT 06405
203.483.9397